A politically imperiled President Obama called on lawmakers Thursday night to approve another stimulus plan to create jobs, many for his union base, while adding about $450 billion to next year's budget.
"I am sending this Congress a plan that you should pass right away," a defiant Mr. Obama told a joint session of the House and Senate. He urged lawmakers to "stop the political circus and actually do something to help the economy."
The president, whose job-approval ratings are his lowest ever, announced a package of proposals that is likely to be his last major effort to create jobs before the 2012 presidential campaign swings into high gear.
Among the proposals he outlined are extending unemployment benefits, worth about $50 billion; boosting spending on construction projects by about $100 billion; giving $35 billion to states to keep teachers on the job; and providing another round of payroll-tax cuts for workers and employers. The payroll-tax cuts could cost about $200 billion and would provide the average household with about $1,500.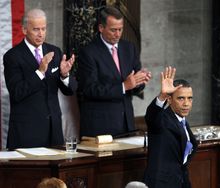 The president referred to an economic "crisis" and used the phrase "pass this jobs bill" at least a dozen times. He rejected the argument that his plan is politically motivated.
"The next election is 14 months away," Mr. Obama said. "And the people who sent us here — the people who hired us to work for them — they don't have the luxury of waiting 14 months."
The administration's $825 billion stimulus measure in 2009 failed to deliver the promised results on jobs. Early estimates this week put the cost of the new plan at more than $300 billion, but by the time of his speech, that figure had risen to nearly $450 billion. Addressing GOP criticism that the nation cannot afford to add to its $14 trillion debt, Mr. Obama insisted, "Everything in this bill will be paid for. Everything."
But the president won't explain how to pay for it, exactly, for at least another week. Said Mr. Obama, "A week from Monday, I'll be releasing a more ambitious deficit plan — a plan that will not only cover the cost of this jobs bill, but stabilize our debt in the long run."
Presidential adviser Valerie Jarrett said the administration wants to cover part of the cost by closing certain corporate tax loopholes, a strategy that failed to produce an agreement with congressional Republicans during the debt-limit negotiations this summer. White House Chief of Staff Bill Daley said some of the cost should be borne by a tax increase on the wealthiest wage earners. The plan would add to the deficit-reduction work of a congressional supercommittee, which is already tasked with finding $1.5 trillion worth of deficit trims by the end of November.
Mr. Obama reiterated his theme of "shared sacrifice" that dominated debt-reduction talks with the GOP this summer.
"Should we keep tax breaks for millionaires and billionaires?" Mr. Obama asked rhetorically. "While most people in this country struggle to make ends meet, a few of the most affluent citizens and corporations enjoy tax breaks and loopholes that nobody else gets. This isn't political grandstanding. This isn't class warfare. This is simple math. These are real choices that we have to make. And I'm pretty sure I know what most Americans would choose. It's not even close."
The two parties abandoned the bipartisan seating arrangements they had for Mr. Obama's State of the Union address, with only a few Democrats, such as Sens. Mark Udall of Colorado and Thomas R. Carper of Delaware, embedded in the sea of GOP lawmakers. The president's protestation that he wasn't engaging in class warfare drew laughter from the GOP side. And Rep. Jeffrey M. Landry, Louisiana Republican, held a sign that said, "Drilling = Jobs."
Senate Minority Leader Mitch McConnell, Kentucky Republican, called it "a re-election plan," rather than a jobs plan.
Among Mr. Obama's first public actions after the speech will be trips to push his proposal in the faces of the House GOP leadership. On Friday, the president will travel to Richmond, home district of House Majority Leader Eric Cantor, Virginia Republican, to promote his agenda. On Tuesday, he will lobby for the plan in Columbus, Ohio, about an hour's drive from the district of House Speaker John A. Boehner, Ohio Republican.