BOSTON — Joel Ward was a playoff hero for the Nashville Predators a year ago. Postseason heroics to the tune of seven goals and six assists earned him a four-year, $12 million contract with the Washington Capitals.
General manager George McPhee even acknowledged he probably overpaid by 15 percent to land Ward, who attracted interest from more than half the teams in the league. A tumultuous regular season that included a handful of games as a healthy scratch and no real offense since January made Ward's contract look like an albatross.
His overtime winner against the Boston Bruins in Game 7 on Wednesday night that catapulted the Capitals into the Eastern Conference semifinals makes $3 million a year seem like a steal now.
"Well, George looks like an absolute genius, eh? It's a great pick-up. We all knew Wardo had it in him," defenseman Karl Alzner said. "You could just tell at the beginning of the game Wardo seemed to have an extra gear that we really hadn't seen a whole lot of.
"He was just lugging the puck good, he was protecting it well and that's what happens."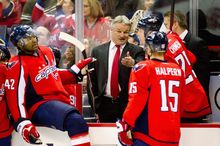 Ward was expected to be a prime playoff performer. The regular season, in which he put up six goals and 12 assists, was gravy.
"When we put the team together, we're not quite as pretty as we've been in the past, but we're a grittier team. I thought that while we might sacrifice some points during the regular season we'd be a better playoff team," McPhee said. "And we won a series, so maybe there's something to it."
This is Ward's time to shine. Before the season, Predators coach Barry Trotz called the 31-year-old right wing a stabilizing force on any line and continued to glow when talking to CBC and NHL Network analyst Kevin Weekes recently.
"Trotz, he just raved about Joel. The way he played last year, he was leading the NHL playoffs last year in goal-scoring for a while," Weekes recalled. "I think he ended up fifth, and that's pretty impressive when you think of the likes of the superstars that are in the league. Barry Trotz was just saying that he loved Joel, he loved having him as a player."
Who wouldn't love a big, grinding forward who enjoys mucking it up in the corners and crashing the net? That's what being "grittier" is all about.
Dale Hunter said every team needs "foot soldiers" to win in the playoffs, and Ward and right wing Mike Knuble fit that bill. They combined on the series-clinching goal Wednesday night.
"It happened so fast. But I knew that he was going to take the puck to the net," Ward said. "I was just trying to follow up just in case there was a puck loose or a rebound. I just kind of saw it there and just gave it one of the hardest whacks I've ever given a puck."
Ward was just following advice from Weekes, a mentor and longtime friend who sent him a text message earlier in the day.
"Essentially, it was just believe in yourself," Weekes said. "I just told him, 'Just believe in yourself, see the moment, seize the moment, be a bull along the boards and own the front of the net.'"
It would be hard to seize the moment any more than Ward did, and he picked the perfect time for a season-defining play. This year has been up and down, from his one-game team-imposed suspension for oversleeping a meeting to a significant demotion in minutes and eventually a stretch as a healthy scratch.