Western nations preparing to withdraw from combat in Afghanistan increasingly are alarmed by Afghan security forces turning their weapons on allied troops, attacks that the Taliban claim as proof of their sway over local troops.
Five such attacks have occurred in the past week — the deadliest on Friday, when six U.S. troops were killed by Afghan security personnel in two separate incidents.
The so-called green-on-blue attacks have heightened tensions and frayed nerves among coalition troops as international forces aim to withdraw from Afghanistan by the end of 2014.
"Probably the biggest area of frustration is the continued lack of trustworthiness of many members of the Afghan National Army [ANA], as demonstrated by the disturbing frequency of green-on-blue violence," said Paul Pillar, a CIA veteran and former national intelligence officer for the Near East and South Asia.
"The overall combat effectiveness and ability of the ANA to operate independently is obviously a focus of major concern and effort. But in terms of outright frustration, I would think the tenuous loyalties of members of a force that is supposed to be our ally would rank most highly," he said.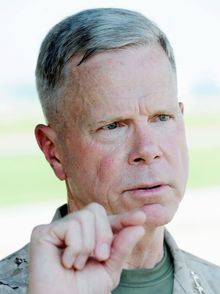 The term "green-on-blue" is a standard military reference that originated in attacks by host security forces on U.N. peacekeepers, who wear blue helmets. However, the international coalition in Afghanistan is not a U.N. peacekeeping force and does not wear blue helmets.
As of Monday, there have been 29 green-on-blue attacks this year and a total of 37 coalition deaths, 21 of which have been Americans, according to statistics provided by the Pentagon.
At a Pentagon briefing Tuesday, Defense Secretary Leon E. Panetta expressed concern that such attacks occur, in part because of the "potential damage to our partnership efforts."
The attacks also are taking a toll on troop morale.
"For our service members operating in the field hearing about these attacks, it is only natural to be concerned about their welfare and that of their buddies, and to have a heightened sense of awareness," said Navy Cmdr. Bill Speaks, a Pentagon spokesman. "Anyone in that position would do the same, and we don't discount the impact of these tragedies on individual morale."
In a letter Tuesday to commanders in Afghanistan, Marine Corps Commandant Gen. James Amos sought to soothe the rattled nerves of troops. He said such attacks show that the U.S. is winning the war against Taliban insurgents.
"When faced with the stark reality of what has just happened, it would be easy to give in to the belief that these attacks indicate we are losing the fight," Gen. Amos wrote in his letter, a copy of which was obtained by The Washington Times. "In fact, the opposite is true.
"These attacks are occurring because we are winning the fight in [regional command southwest]," he said. "Over the last four years, we have steadily improved the security situation in Helmand [province]. Historical casualty levels have steadily declined. Afghan security forces have made dramatic improvements in dependability, capability and performance."
Countering the attacks
The Marines suffered their worst so-called "green-on-blue" fatalities on Friday. An Afghan police officer fatally shot three Marines he had invited to dinner in Helmand province. That same day, three Marines assigned to a training unit were killed by an Afghan policeman in Helmand.