When Sean Taylor went full-speed in practice, that included hitting his Washington Redskins teammates like he did opponents in games. But not tight end Chris Cooley, his friend with whom he talked to every day.
"He never did that to me," Cooley said. "He would always come up and said: 'I love you, buddy. I won't do that to you.' And I was always thankful."
Cooley got that respect from Taylor for 3½ seasons. Then, in late November 2007, Taylor was dead after being shot at his South Florida home. The Redskins had to cope with a loss that was far greater than anything they could endure on the field.
"Just the reality that a guy that you've been living with in this locker room is no longer here, it was just like a surreal experience," linebacker Lorenzo Alexander said. "You're just trying to comprehend all that. That was probably the hardest part: here one day and the next minute gone."
More than five years after Taylor's death, the Kansas City Chiefs are in the aftermath of another tragedy after linebacker Jovan Belcher killed his girlfriend last Saturday morning and then drove to the practice facility and killed himself. The differences are many, including the circumstances of each player's death, but the process of going through death and football is all too common in recent years.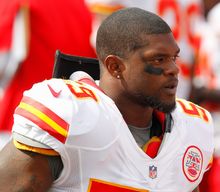 In 2010, Denver Broncos wide receiver Kenny McKinley committed suicide. In 2009, Cincinnati Bengals wide receiver Chris Henry fell out of a pickup truck driven by his fiancee and died.
In 2007, Broncos running back Damien Nash died of a heart attack while playing pickup basketball in the offseason, just months after Denver cornerback Darrent Williams was shot and killed in the early morning of New Year's Day.
"Everybody kind of handles it in a different way," said Mike Shanahan, who coached the Broncos during the deaths of Nash and Williams. "It's a really, really tough time in an organization when something tragic like that happens. Your heart goes out to them, but everybody will persevere and they'll work through it."
Six Redskins players remain from 2007, which became a season dedicated to Taylor. It's impossible to be around the team and not think about Taylor; his No. 21 is plastered on the guard's booth that allows entry to Redskins Park.
And while Taylor died five years ago, Cooley said it's not hard to remember what it was like, especially given the Kansas City tragedy.
"There was nothing to latch on to. There was nothing to think like, 'I have this.' It was, I guess, an 'in awe' situation. You just keep going," Cooley said. "You just kept playing football. Everyone has grief and everyone deals with situations differently, and my way to do it is just keep living, doing what I do."
That's what the Chiefs were forced to do, playing Sunday at home less than 36 hours after Belcher murdered Kasandra Perkins and then turned a gun on himself. They beat the Carolina Panthers 27-21.
Taylor was shot Nov. 26, 2007, and died of excessive bleeding the next day. The Redskins lost at home to Buffalo on Dec. 2 and traveled for the funeral the following day. On Thursday night, Dec. 6, they beat Chicago behind backup quarterback Todd Collins to start a four-game winning streak that put them in the playoffs.
"I don't think there's a right or a wrong answer to it. Personally, getting away from it does help," Alexander said. "That's with anything that may be going on with your life, to going out there and just playing and using your teammates to kind of lean on and playing the game that you love kind of gets you away from the situation.
"But obviously, at some point you have to deal with it, whether you're getting help or talking to a counselor. It relieves the pain temporarily, but at the same time, you've still got to address it at some point."