RICHMOND — Virginia Gov. Bob McDonnell's legacy is on the line as the General Assembly convenes Wednesday to take up initiatives that would plug money into the state's retirement system, its schools and its crumbling infrastructure while considering Republican-backed measures to streamline government and strengthen personal property laws.
Assuming, of course, that lawmakers can get past the first day.
Before members of the assembly can tackle any issue of substance, the Senate first has to hash out how it is going to be organized. The normally rote task is expected to be complicated in the Senate this year by the 20-20 split between parties after November's legislative elections and the standoff threatens to cast a shadow over the entire session.
Republicans have declared themselves the majority party and said they intend to use Lt. Gov. Bill Bolling's tiebreaking vote to control the Senate's organization, including the all-important task of assigning committee members and chairmanships that are crucial in deciding what measures advance for a vote.
Mr. Bolling recently conceded that his tiebreaking authority does not extend to the budget, electing judges or approving constitutional amendments, and Democrats are hoping to restrict his authority even further.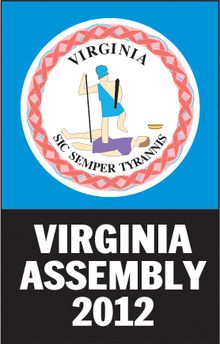 Democratic caucus Chairman A. Donald McEachin last month filed a lawsuit seeking to block Mr. Bolling from breaking ties on organizational matters. A Richmond judge denied a request by Mr. McEachin, Henrico Democrat, for a temporary injunction, putting the legal action on hold in large part because the session had not convened and no tiebreaking votes had been cast.
So what will happen Wednesday?
"You tell me. … I don't know," said Sen. J. Chapman "Chap" Petersen, Fairfax Democrat. "I keep waiting for some type of white-smoke signal coming out of the Democratic caucus."
The first time Mr. Bolling casts a contested tiebreaking vote, the lawsuit could be revived. But state law grants immunity from lawsuits to members of the General Assembly from 15 days before the session starts until 15 days after the session ends, meaning that Mr. Bolling could refuse to appear and a final answer on the scope of his authority could have to wait until the session ends.
McDonnell's legacy
Organizational matters aside, 2012 is a legacy-making session for Mr. McDonnell, who gets his one shot at preparing and passing a full budget because of Virginia rules that call for spending plans to be passed every two years and that limit governors from serving consecutive terms.
"Year three, of course, is often when governors make their big move in terms of stamping their legacy on the budget," said Stephen Farnsworth, political science professor at the University of Mary Washington. "A governor does a great deal to shape the trajectory of the state budget debate, and by being very vigorous in promoting his agenda, the governor is hoping to steer the legislative session that's getting under way."
It was the third year of Mark R. Warner's tenure when the former governor and current U.S. senator called a special session to persuade a group of moderate Republican legislators to help him pass a historic $1.4 billion tax package and preserve the state's coveted AAA bond rating.
Mr. McDonnell thus far has proved popular with Virginia voters, scoring among the highest approval ratings of any governor in the country in large part by avoiding divisive issues and pursuing a moderate agenda. He reiterated Tuesday that he and his party would focus on bread-and-butter concerns like jobs, education, transportation and government reform during the 60-day session scheduled to adjourn March 10.
"While we have a majority, we will not be arrogant. We will not overreach. We will not lose focus on creating jobs, [improving] our quality of life for our citizens, and ultimately solving problems," he said. "We'll be civil, but we'll be passionate about the things that Republicans and conservatives believe in for our state."