The fact that Pedro Beato threw a breaking ball was not a surprise. In the two-plus innings the New York Mets relievers pitched Tuesday night, they'd fed the Washington Nationals a steady diet of those. Curveballs from Bobby Parnell, sliders from Tim Byrdak and more curveballs from Beato.
But this curveball — a 1-2 offering to Tyler Moore in the bottom of the 10th inning, with the bases loaded and the game tied — hit the dirt. Moore wasn't sure if it got away, but it sure sounded like it'd hit the ground hard. On third base, Ryan Zimmerman wasn't sure either. He began sprinting toward home plate, watching catcher Josh Thole extend his right arm, wondering if he'd get a handle on it.
He stopped.
It was only a split-second hesitation, nothing more, and third base coach Bo Porter made sure of that as he sprinted nearly stride for stride with Zimmerman down the line. But for all it held in the balance in a wild 5-4 victory over the Mets at Nationals Park, it was just long enough to allow for reflection.
There was Ross Detwiler's superb seven-inning outing in which he took an aggressive mentality to the mound, pounded the strike zone, scattered five hits and didn't allow a run in arguably his most dominant start of the season.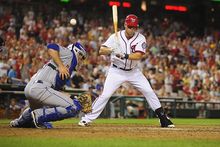 "He's knowing who he is now," said Nationals manager Davey Johnson of the 26-year-old lefty. "And I like what I'm seeing."
There was Tyler Clippard, the Nationals' infallible closer who entered the All-Star break 14-for-14 in save opportunities, throwing a "frustrating" changeup to pinch-hitter Jordany Valdespin in the ninth inning with two on. Then he watched it sail just far enough over the right field wall to erase Detwiler's gem, the Nationals' 2-0 lead and blow his save.
"It would have been devastating to lose that game," Clippard said, questioning the selection of the changeup in that situation and acknowledging the execution of the pitch — normally one of his best — was the more egregious part. He was left to fume as the umpires went in to review and, ultimately, uphold their initial ruling.
"It's never good [to blow a save] but as long as we win, that way I can sleep tonight."
There was Ian Desmond, the Nationals All-Star shortstop who was missing from the starting lineup for the third straight day with a strained left oblique, pinch running for Michael Morse in the ninth and being intentionally walked behind Zimmerman's to load the bases with one out.
"That's kind of what kind of the book says to do there," Zimmerman said. "You get to the lefty to load it up so that way there's a force play on any base. But I mean, you act like Desi is 100 percent — which you kind of have to. If you pitch to him there with the way he had been swinging the bat, even if he is only 75 percent, all he has to do is hit a flyball to the outfield."
As Zimmerman continued to charge down the third base line, the 90 feet between him and home plate closer to 50, Moore stood to the left of home plate, his right arm waving madly. Five innings earlier he became only the second hitter to get a hit off Mets lefty Jon Niese, connecting with a first-pitch fastball and lining it into the right-center field seats for a 1-0 lead in a pitcher's duel.
Steve Lombardozzi's RBI double in the eighth gave the Nats a short-lived 2-0 cushion. After Danny Espinosa saw five straight curveballs from Parnell, he drove a single up the middle on a fastball to tie things up at three and take Clippard off the hook. Bryce Harper's rocket of a triple in the 10th tied knotted it again at four.
"I've said it a hundred times, the makeup on this ballclub is off the charts," Johnson said, opening his post-game press conference with a, "Wow!" "There's no give-up, they are all competitive. Probably not as flashy as a lot of players, but they're everyday ballplayers. They take it serious, they work hard at the trade. They look at every situation as an opportunity. They take nothing for granted."
When Zimmerman crossed home plate, he was greeted immediately by Espinosa, who had been waiting on deck, and then mobbed by teammates that had been waiting on the railing of the dugout for a reason to explode.