NEW YORK — Tourism officials in Maine will be delighted when they see HBO's new documentary on President George H.W. Bush.
The leisurely paced film has so many pictures of waves splashing over the rocks at the Bush family compound in Kennebunkport that it's tempting to book a vacation nearby. The beauty of Walker's Point and its rejuvenating qualities for Mr. Bush since he was a boy is key to understanding him, and key to filmmaker Jeffrey Roth's goals as a result.
"It sort of became like another character because of his love for the place and his family, and his love for his boat," Mr. Roth said.
Granted unusual access to the former president, Mr. Roth set out to make "41" (the title a reference to Mr. Bush as the nation's 41st president; his son was 43rd) a personal rather than political film. It debuts Thursday, two days after Mr. Bush's 88th birthday.
Mr. Roth doesn't pretend that Mr. Bush's four years as president (1989 to 1993) weren't the most important. But he finds rich stories in the other 84. Remarkably, the film contains footage of Mr. Bush's rescue when his plane was shot down in World War II. Mr. Bush also talks about his daughter Robin, who died of leukemia at age 3 in 1953. Both were more formative life events than any political act.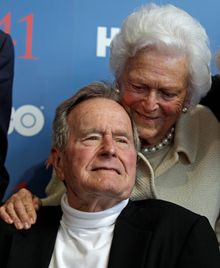 Mr. Bush says in the film that the presidency "was the epitome of my life, but not my whole life."
Before becoming president, he was an oil executive, congressman, head of the Republican National Committee, U.S. ambassador to the United Nations, head of the Central Intelligence Agency, liaison to China and vice president to Ronald Reagan.
Mr. Roth gets an insightful moment when he asks Mr. Bush about when the Berlin Wall came down during his presidency. Mr. Bush responds by mentioning critics who said he should have gone to the Wall to celebrate with demonstrators, and explains how the Russians might have considered that unnecessarily provocative. The savvy diplomat's reaction showed he didn't have an all-consuming need for attention.
He was well aware of criticism, though. Mr. Bush shares with many Republicans an aversion to the press, saying in the film that most reporters were against him when he lost his re-election bid to Bill Clinton.
So it was mildly surprising that he talked at all for "41." Mr. Bush doesn't grant many interviews and doesn't want to talk about politics, said film executive Jerry Weintraub, a family friend who helped shepherd "41" and is doing many of the interviews to support it.
"He's not a braggadocio kind of guy," Mr. Weintraub said. "He doesn't want to sit around and talk about how wonderful he is. He never did. That's one of the things that made him so wonderful."
Mr. Bush was a fan of Mr. Roth's previous film about astronauts, "The Wonder of It All," and hosted viewing parties in both his presidential library in Texas and in Kennebunkport. That enabled him to grow comfortable with Mr. Roth, the former president said in an email interview.
"I could tell he was a decent guy, in addition to being a very talented filmmaker," Mr. Bush said.
Mr. Roth proposed, to the former president's chief of staff, doing a film about Mr. Bush's life. She warned him it probably wouldn't happen. Mr. Bush hasn't written a memoir and isn't doing so now. He put out a book of letters, cooperated with daughter Dorothy's book in 2006 and is cooperating on a biography that Jon Meacham is writing, but that's it.
Somewhat to Mr. Roth's surprise, Mr. Bush said yes.