Gay marriage dominates the list of "social-issue" ballot measures going to voters this year, with amendments for and against same-sex unions up in four "blue" states:
• In Minnesota, voters will be asked to amend their state constitution to say that marriage is the union of a man and a woman. Amendments like this have already passed in 31 states, including North Carolina in May. The Minnesota Marriage Protection Amendment was put on the ballot by lawmakers in 2011, a few months after Republicans took over the state Legislature for the first time in 38 years.
• In Maine, gay-marriage supporters held a petition drive to allow voters to weigh in on a measure legalizing gay marriage. The Act to Allow Marriage Licenses for Same-Sex Couples and Protect Religious Freedom clarifies that, if approved, it would not require clergy to perform gay marriages if it violates their beliefs.
• In Maryland and in Washington state, residents are working to repeal gay-marriage laws enacted this year by their state lawmakers. In Washington, state officials have already certified Referendum 74 for the ballot, and in Maryland, residents have already submitted 120,000 signatures — more than twice what is needed — to state officials to add their measure to the ballot.
Early polls put these four measures as tossups or victories for gay-marriage supporters.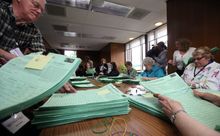 Gay-marriage advocates are eager to finally win in the voting booth.
"We've shown that we can win court cases. We've shown we can win legislatures. We've shown we can win Republicans as well as Democrats," Evan Wolfson, founder of Freedom to Marry, told Rolling Stone earlier this month.
"So the one thing they say we can't do is win a ballot measure, and we want to take that talking point away from them this year," said Mr. Wolfson.
State pro-gay marriage groups include Mainers United for Marriage, Minnesotans United for All Families, Marylanders for Marriage Equality and Washington United for Marriage.
President Obama, a declared gay-marriage supporter, is urging voters to support it, too: In Baltimore recently, he reminded his audience they have the chance in November to "reaffirm" the principle of treating everybody "fairly and … equally, with dignity and respect."
Traditional-marriage supporters, however, are determined to win in all four states.
"Every day that goes by without a marriage amendment in our state constitution is a day that Minnesota's definition of marriage is in jeopardy of being redefined by an activist judge," Chuck Darrell of Minnesota for Marriage said recently when 25 gay couples filed lawsuits seeking to marry in Illinois.
The Minnesota amendment "ensures that voters will remain in charge of the definition of marriage in the future," Mr. Darrell said, echoing statements of like-minded supporters with Protect Marriage Maine, Maryland Marriage Alliance and Preserve Marriage Washington.
Another perennial hot topic is abortion reforms, including "personhood" measures that seek to define the right to life at conception.
So far, all personhood amendments have been defeated by voters: A 2011 measure in Mississippi that was widely expected to pass was soundly rejected instead. Voters later said they feared it would prohibit infertile couples from using reproductive technologies to have children or outlaw all abortions, including cases where the mother's life was in danger.