The U.S. mission in Afghanistan suffered twin blows Thursday as Afghan President Hamid Karzai demanded that NATO troops stay out of Afghan villages and the Taliban suspended peace talks.
Afghans also responded angrily to news that a U.S. soldier accused of killing 16 civilians, including women and children, had been flown to Kuwait on Wednesday night.
In Kabul, Mr. Karzai told visiting Defense Secretary Leon E. Panetta that he wanted U.S. and NATO troops out of rural areas and Afghan security forces to take the security lead in the country by 2013, one year ahead of schedule.
President Obama has said U.S. combat troops will leave Afghanistan by the end of 2014.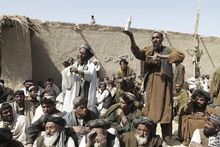 "Afghan security forces have the ability to keep the security in rural areas and in villages on their own," Mr. Karzai said in a statement.
Afghan officials said the demand was a consequence of the Sunday shooting spree in Kandahar when a U.S. soldier shot 16 civilians in a village near his base.
Muhammad Naeem Lalai Hamidzai, chairman of the Afghan parliamentary committee on internal security affairs, said he was in favor of a NATO troop pullback.
"The only way to stop incidents like what happened in Kandahar from ever happening again is to give our security forces the lead role," Mr. Hamidzai said in a phone interview, but he was skeptical about the ability of the poorly trained and equipped Afghan forces to confront the Taliban.
Women feel unsafe
In provinces where Afghan security forces have taken the lead, Afghans, particularly women, say they feel unsafe. "We had a high number of women's groups that were very active in those provinces. Now they do not feel secure," said Asila Wardak Jamal, director of Human Rights and Women's International Affairs in the Afghan Foreign Ministry.
"Imagine what will happen if international troops leave Afghanistan," she said in a phone interview.
It is unclear how Mr. Karzai's demand will affect the practice of night raids, in which teams of NATO and Afghan soldiers go from door to door hunting for terrorists in civilian neighborhoods.
U.S. commanders say these raids have been useful in disrupting Taliban networks. Afghans view the raids as demeaning and intrusive, and Mr. Karzai has demanded that they be terminated.
The Taliban put off peace talks after saying that Washington had failed to meet its demand for the release of five high-value detainees at the U.S. military detention facility in Guantanamo Bay, Cuba.
In a statement emailed to reporters, the Taliban accused the U.S. of shifting the goal posts for reconciliation.