Mayor Vincent C. Gray hired and the D.C. Council confirmed Kenneth Ellerbe to head the District's fire department without ever requesting a copy of his personnel file from the chief's former employer in Sarasota County, Fla. — a file that contained a complaint of sexual harassment.
The complaint, recently obtained through a Freedom of Information Act request, is supported by statements attesting to inappropriate behavior and intimidation on the part of Chief Ellerbe, who headed Sarasota's fire department.
The disclosure raises concerns about how the politically connected fire chief was selected and whether he was vetted at all before being hand-picked in December 2010 to lead a 2,000-member agency with a budget of nearly $200 million.
Sarasota County human resources officials said their records indicated that some news outlets requested information from the personnel file of Chief Ellerbe, who left the District as a deputy chief in August 2009 after a 27-year career to work in Florida under a controversial "personnel-exchange agreement." No one else — including the Gray transition team, the D.C. Council committee charged with vetting the nomination or anyone else from the D.C. government — asked to see the file documenting the chief's 16-month Florida tenure.
The file contains a complaint that Chief Ellerbe leered at a female employee on several occasions with a statement that the woman submitted detailing the incidents. When the woman's concerns were brought to the chief by her supervisor, the supervisor said in a statement of his own that Chief Ellerbe dismissed the concern with disparaging remarks.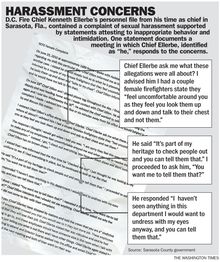 Union officials in Sarasota also discussed incidents suggesting that Chief Ellerbe's behavior in Sarasota was vindictive and retaliatory and had a chilling effect on employees filing complaints against him.
Some of the same concerns about intimidation have arisen in the year since Chief Ellerbe took over the D.C. fire department. Some firefighters suggested a pattern of reprisals against people who publicly speak out against his administration.
Asked in writing and on the phone about the process by which Chief Ellerbe was vetted and why the city did not seek his employment records, Gray spokesman Pedro Ribeiro said the administration could not discuss personnel information. He said Chief Ellerbe, who earns an annual salary of $187,302, was authorized to speak for himself about the complaint.
Chief Ellerbe, in an email and in a subsequent interview, denied the allegations in the complaint and said the statements supporting it were "unfounded and untrue."
'You want me to tell them that?'
According to one of the written statements, a Sarasota County battalion chief met with Chief Ellerbe and an assistant chief to discuss the concerns of a couple of female firefighters he supervised who said "they feel uncomfortable around the chief because he looks them up and down and 'talks to my chest.' "
During a June 28, 2010, meeting, Battalion Chief Joe Robinson, who also serves as a reserve deputy in the county sheriff's department, said he was puzzled by the response he got from Chief Ellerbe about the concerns.
"He said, 'It's part of my heritage to check people out, and you can tell them that.' I proceeded to ask him, 'You want me to tell them that?' He responded, 'I haven't seen anything in this department I would want to undress with my eyes anyway, and you can tell them that.' "
Asked why the women did not come directly to Chief Ellerbe with their concerns, Chief Robinson wrote in his statement that he told Chief Ellerbe it was because Chief Ellerbe had stopped by fire stations, and "told the crews that you are a 'vindictive bastard' and that if anyone ever crossed you that you would see to it that they lost [their] job."
When asked in an interview about the statement, Chief Ellerbe initially said Chief Robinson was a subordinate and he would not have discussed the matter with him. But when read the exchange documented in Chief Robinson's statement, Chief Ellerbe said he recalled Chief Robinson questioning him, though he denied making the quoted remarks.