In a bitter battle of liberal Democratic heavyweights, Ohio Rep. Marcy Kaptur prevailed over longtime friend and fellow incumbent Rep. Dennis Kucinich in Tuesday's primary in their newly drawn and combined congressional district.
Ms. Kaptur will face off against another nationally known figure in the general election, as political novice Samuel Wurzelbacher, better known as "Joe the Plumber," who confronted then-candidate Barack Obama in the 2008 presidential race, won the Republican primary over Steven Krause, an auctioneer from Huron.
The much-watched race drew national attention as the two congressional veterans were forced by redistricting to fight for their political lives. The race was not determined until the early hours of Wednesday morning.
State Treasurer Josh Mandel, a Republican, easily won his U.S. Senate primary bid to face Democratic incumbent Sherrod Brown in November, but another GOP incumbent, Rep. Jean Schmidt, lost a stunning upset to Army Reserves Maj. Brad Wenstrup, a political novice, in her Cincinnati district.
The bruising Kaptur-Kucinich battle for the new district along Lake Erie was the first and one of the most intriguing of some 13 House contests pitting incumbents against incumbents as a result of redistricting after the 2010 census.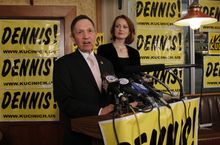 In seven districts, two sitting Democrats will be running against each other, while four primaries will pit Republican incumbents. Two general-election races, in Ohio and Iowa, will feature a sitting Republican and sitting Democrat running in the same redrawn district.
Ms. Kaptur should be favored in a heavily Democratic district, but it was clear from Mr. Kucinich's concession speech shortly after midnight that the party has some healing to do. An angry Mr. Kucinich described his opponent's campaign as "lacking in integrity, filled with false truths."
"I hope this is not a representation of how she'll run the district," he said.
Ms. Kaptur did not respond to Mr. Kucinich's criticism but said in a statement said she will need his supporters, and those of another primary contender, Graham Veysey, in the fall.
"We will need them, and their supporters help to work for the betterment of all of northern Ohio," she said.
Because of the nature of the race and the two candidates, the Democratic primary attracted interest far beyond the state.
Earlier in the day, celebrities tweeted support for Mr. Kucinich.
"We cannot lose him," music impresario Russell Simmons said.
"We need you," added actor and environmentalist Ed Begley Jr.
Mr. Kucinich also received support from NARAL Pro-Choice America, which tweeted that he was the only pro-choice candidate in the race.
Speculation raged on Twitter about whether Mr. Kucinich might make a run as a Green Party candidate for president or mount a campaign run in Washington state if he lost his District 9 seat in Ohio.