There's no sign of a truce in America's continuing battle of the bulge.
A report released Monday projects that U.S. obesity rates, now at 36 percent of the population, will rise to 42 percent within two decades, bringing with it a tab of more than a half-trillion dollars in health care and related costs. The projected rise would top off at three times the national obesity rate in 1980.
Researchers outlining the waistline trends at a Washington conference sponsored by the Center for Disease Control and Prevention said that while obesity rates are not showing the sharp rate of increase seen in recent years, the country could save hundreds of billions of dollars in health care costs in the coming decades simply by preventing further gains in average weight.
"There is going to be roughly 30 million obese adults by 2030," said Eric A. Finkelstein, an associate research professor at Duke University's Global Health Institute who co-wrote the obesity study.
"If we could keep obesity rates flat, we would save $550 billion."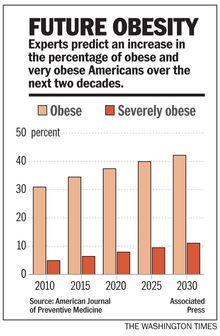 Nearly 78 million people were determined to be obese in 2010, a number predicted to rise by more than 30 million people in the next 18 years, the study projects. By contrast, the percentage of the U.S. population categorized as obese was just 15 percent in 1980.
The number of severely obese people - those who are 80 or more pounds overweight - is predicted to increase to 11 percent by 2030, more than double the 5 percent of the population they make up today, said scientists speaking at the CDC's Weight of the Nation conference at the Omni Shoreham Hotel.
The three-day conference, which continues through Wednesday, brought together health and nutrition advocates from around the nation who want to do something about the nation's overeating epidemic.
The morning's session kicked off with presentations from Sam Kass, the White House's senior policy adviser for healthy food initiatives, who discussed first lady Michelle Obama's Let's Move program to encourage more physical activity, even as statistics show just 2 percent of high schools now offer physical education classes daily.
About 17 percent of adolescents are categorized as obese. Mrs. Obama appeared via video address to praise the CDC's commitment to childhood-obesity prevention.
Among new initiatives announced Monday were a commitment by the Partnership for Healthy America and food giant Birds Eye Foods Inc. to launch a new GenVeg campaign geared at getting young people to eat more vegetables. The company said it would offer millions of dollars in coupons and partner with iCarly and Nickelodeon to get its message to consumers via television.
The obesity researchers, briefing the media Monday morning, said that while their study predictions could have some variation, the upward trendline for obesity rates is alarming.
For those who are severely obese, the outlook is especially bleak, they added.
"This is a group at risk of really great health implications, yet they are increasing at even a greater rate than overall obesity," said health economist Justin Trogdon of the Research Triangle Institute in North Carolina who co-wrote the CDC report. The full study, which relied on data from participants in the CDC's Behavioral Risk Factor Surveillance System, is published in the American Journal of Preventive Medicine.
Sustained weight loss for the severely obese - defined as having a body mass index higher than 40 - is still "largely elusive," with not many strategies proving helpful, save surgery. Without intervention, it leads to diabetes, heart disease and premature mortality rates, the researchers said.