Brandon Meriweather shook off concern, and he wasn't just putting on a brave face for the cameras. The Washington Redskins safety who left Sunday's game in the third quarter with a right knee injury told coach Mike Shanahan he wanted to go back in.
"He talked to me after the game, he felt great," Shanahan said. "He said 'Don't worry about me coach, I'm ready to go. A little sprain, I could've went in there and finished the game.'"
Even though Meriweather could walk off the field, he won't be walking back on for the Redskins this year, as an MRI showed he tore the ACL. It was a season-ending setback for a player who had just made his season debut after missing the first nine games with a left knee injury.
"Obviously shocked, disappointed," Shanahan said of Meriweather's reaction. "He loves football. He's got energy out there, and one of the reasons we brought him in. But it's unfortunate because he has been healthy. This is just a couple freak situations. Hopefully, he can take care of that and be back next year ready to go."
The Redskins' primary offseason acquisition on defense, Meriweather illustrated how big a difference he can make with an interception, seven tackles and two pass breakups in Sunday's 31-6 win over the Philadelphia Eagles.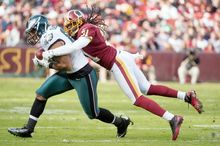 "I think he brought a spark to the whole team, man. An amazing player, and it showed in his play," defensive end Stephen Bowen said. "Everybody saw how much of an impact he makes."
When the Redskins signed Meriweather to a two-year deal, they saw him as someone who could add more playmaking abilities to an already established defense. Spraining ligaments in his left knee in the preseason pushed back his chance to prove that. Just when Meriweather was ready to play, he collided with wide receiver Aldrick Robinson during pregame warmups Sept. 30 at Tampa Bay and aggravated the left knee injury.
After suffering the right knee injury Sunday, Meriweather is looking at surgery within the next couple of weeks and about a six-month recovery time.
"I promise that I'll be back next [year] better then ever," he wrote on Twitter. "Hard work pays off. God had something different for me this year. So see y'all next [year]."
What the Redskins saw from Meriweather against the Eagles was a brief, tantalizing glimpse of how one man really can change the fortunes of a unit. Even with linebacker Brian Orakpo and defensive end Adam Carriker lost for the season, the defense looked formidable with Meriweather finally on the field.
"I think any time you got a guy that's looking forward to playing and he's played at a high level, it's great to have those guys out there," Shanahan said. "They add an air of confidence to your football team and, more importantly, they go out and make plays."
Meriweather's interception of Eagles rookie Nick Foles and the subsequent 25-yard return were just the beginning. With Meriweather's presence in pass coverage, the Redskins managed to hold DeSean Jackson to two catches for 5 yards and Jeremy Maclin without a reception.
If the Redskins hope to have that kind of success the rest of the season, they'll need DeJon Gomes and Reed Doughty to improve on what they were able to do in Meriweather's absence the first nine weeks.
"We'll have some guys step up and play well in his spot. I thought DJ came in and did a good job," Shanahan said. "I think you saw during the game that one hit he had [on Maclin]. Hopefully it continues, and he plays at a high level."
It's just about impossible for anyone on the roster to fill in at as high a level as Meriweather played Sunday. Now the Redskins are left to lament what could have been if he remained healthy.