Pvt. Bradley E. Manning, the former Army soldier convicted of the biggest leak of classified documents in U.S. history, will serve his 35-year sentence as a man, not as "Chelsea," the woman he wishes to be, an Army spokesman told The Washington Times Thursday.
"The Army does not provide hormone therapy or sex-reassignment surgery for gender-identity disorder," George Wright said.
A day after being sentenced for leaking 700,000 classified documents to an anti-secrecy website, Manning declared, in a statement to the media, "I am female." The words sparked a debate over how much responsibility federal authorities have to accommodate the desire to be treated as a woman.
Mr. Wright said Manning would serve her sentence in the U.S. Disciplinary Barracks at Fort Leavenworth, Kan., where she would have access to mental healthcare professionals, including a psychiatrist, psychologist and social workers.
But the Army will not be paying for Manning to undergo what transgender activists call "transition" — surgery and hormone treatments designed to bring people's bodies into line with their identity.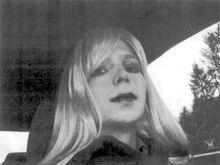 "Our current policy with regard to 'intersex' surgery is that it is a covered benefit only when performed to correct sex-gender confusion-ambiguous genitalia which is documented to have been present at birth," said Maria L. Tolleson, a spokeswoman for Army Medical Command.
Manning's lawyer, David Coombes said if the military fails to accommodate his client's desire to be a woman, he would "do everything in my power to force them to."
The Human Rights Campaign — an advocacy group for gays, lesbians and transgendered people — said there is "a clear legal consensus" that the U.S. government should cover the cost of sex-change operations for federal prisoners if the treatment is medically necessary.
"The military has an obligation to follow those guidelines," Jeff Krehely, the group's vice president, said.
He also said the news media "having reported on her wishes, must respect them," noting that the widely followed Associated Press Stylebook instructs writers to use the name and pronouns preferred by the transgender person.
"The care she receives," Mr. Krehely said of Manning, "should be something that she and her doctors — including professionals who understand transgender care — agree is best for her."
Ms. Tolleson noted that military prisoners "are authorized all necessary medical care," but whether they can pay for their own procedures is a question for authorities at Fort Leavenworth, she said.
The press office at the Fort Leavenworth prison said prisoners at the all-male facility "are treated equally regardless of race, rank, ethnicity or sexual orientation," but it did not directly respond when asked whether Manning might be allowed to undergo the surgery if it were paid for.
Military regulations "don't allow transgender individuals to serve in the U.S. military, based upon medical standards for military service," said Pentagon legal affairs spokesman J. Todd Breasseale.
But Manning will not be in the army, if military commanders and an appeal court that will automatically review his case uphold his conviction and sentence, which includes a dishonorable discharge.