The spotlight on President Obama's day in Johannesburg marking the life of the late South African leader Nelson Mandela was stolen by a controversial handshake and an oddly timed "selfie."
Mr. Obama found himself under sharp fire from U.S. opponents of the regime in Cuba for his decision to shake the hand of Cuban President Raul Castro — the brother of Fidel Castro — on his way to the podium in South Africa, and sparked another uproar on social media hours later with a jovial self-portrait-by-cellphone with the prime ministers of Denmark and Britain during a memorial service for Mr. Mandela.
Republican lawmakers with Cuban roots led the charge over the handshake, which White House officials said later was not a premeditated move, asserting that Mr. Castro and his brother Fidel are ruthless dictators likely to profit from the Obama handshake by turning it into a pro-communist Cuba propaganda stunt. The U.S. has maintained an economic embargo on the island for more than a half-century.
---
SEE ALSO: Ladies' men: Presidents in hot demand at Mandela memorial
---
"If the president was going to shake his hand, he should have asked him about those basic freedoms Mandela was associated with that are denied in Cuba," said Sen. Marco Rubio, Florida Republican and the son of Cuban-American immigrants.
Rep. Ileana Ros-Lehtinen, also a Cuban-American from Florida and a former chairwoman of the House Foreign Affairs Committee, grilled Secretary of State John F. Kerry about the incident during an unrelated hearing Tuesday on Capitol Hill.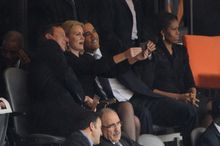 "Mr. Secretary, sometimes a handshake is just a handshake, but when the leader of the free world shakes the bloody hand of a ruthless dictator like Raul Castro, it becomes a propaganda coup for the tyrant," Ms. Ros-Lehtinen said.
---
PHOTOS: Ladies' men: Presidents in hot demand with the ladies
---
"Raul Castro uses that hand to sign the orders to repress and jail democracy advocates. In fact, right now as we speak, Cuban opposition leaders are being detained and they're being beaten while trying to commemorate today — which is International Human Rights Day," she said. "They will feel disheartened when they see these photos."
Mr. Kerry was quick to defend the president, noting that Mr. Obama shook Mr. Castro's hand while greeting a line of world leaders at the memorial for Mr. Mandela, a world-respected peace and human rights leader who died last week at age 95.
"Today is about honoring Nelson Mandela," said Mr. Kerry. "The president's at an international funeral with leaders from all over the world. He didn't choose who's there."
The secretary of state noted the speech Mr. Obama made during the memorial service, in which the president urged the world's leaders to honor Mr. Mandela's struggle for freedom by upholding the basic human rights of their people.
But Ms. Ros-Lehtinen pressed Mr. Kerry on whether he believed that "Raul Castro is upholding the basic human rights."
"No, absolutely not," Mr. Kerry responded.
Mr. Obama also shook hands and kissed the cheeks of Brazilian President Dilma Rousseff, who canceled a state dinner at the White House over her anger with revelations that the National Security Agency had spied on her.
President Clinton and Fidel Castro shook hands at a private U.N. luncheon in New York in 2000, but there was no photo of the meeting and the White House at first denied it happened.
Cuban state-run television broadcast Tuesday's encounter without commentary, simply as part of the footage of Mr. Castro's speech at the tribute in South Africa. The Reuters news agency reported from Havana that many Cubans were heartened by the gesture after decades of frosty relations between the nations.