Costco faces fresh ridicule after a Los Angeles Times columnist caught another Southern California location selling Ron Burgundy's book, a memoir by the fictional "Anchorman" character played by Will Ferrell, in the nonfiction section, just weeks after the wholesaler made headlines for labeling Bibles as fiction.
"I can't totally blame Costco for mislabeling 'Ron Burgundy: Let Me Off at the Top: My Classy Life & Other Musings,'" the L.A. Times' Robin Abcarian wrote on Wednesday. "The cover of this book sports a picture of a mega-mustachioed Will Ferrell, in character as San Diego's fictional TV anchorman. If you aren't a reader, don't know anything about popular culture and perhaps haven't been to the movies in a decade, it's perfectly understandable that you might slap a 'nonfiction' label on this faux memoir."
The Washington Times reported in November that a pastor in Simi Valley, Calif., was shocked when he found out that his local Costco labeled Bibles as fiction.
The Rev. Caleb Kaltenbach, pastor at Discovery Church, was shopping for a present for his wife when saw that every Bible in the book section had a "$14.99 Fiction" sticker plastered on it, Fox News' Todd Starnes first reported.
"If they don't believe in the Bible, that's fine — but at least label it as 'religion' as some bookstores do, or 'inspiration,'" he said.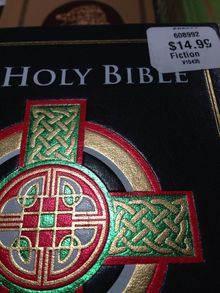 The chain apologized for the oversight.
"We take responsibility and should have caught the mistake. We are correcting this with them for future distribution," Costco said. "We greatly apologize for the error."