The country's largest USO center — 20,000 square feet, painted, polished and primed for active-duty soldiers and their families — is set to open Tuesday at Fort Belvoir.
United Service Organizations leaders said they hope military members see the center as a safe transition space, while its builders are hoping they have successfully tucked rest, relaxation and recovery all under one roof.
For people like Kathleen Causey, the wife of a wounded soldier, the center is all she could hope for.
"It's really a good integration of accessibility and the opportunity to navigate the outside world in a safe environment," the petite 30-year-old said from her seat in a cozy armchair in the center's dining room. "Families can come here to get a moment of peace, free space, get a home-cooked meal — which is few and far between — and you can spend some time together. This center is meeting needs not usually addressed."
Two years ago, her husband, Sgt. 1st Class Aaron Causey lost both of his legs while serving in Afghanistan. He was moved to Walter Reed Army Medical Center, where he has been recovering ever since. Though the 33-year-old is now an outpatient — he goes for rehabilitation every day — Sgt. Causey's time with his wife is either spent at the hospital or their modest home in Rockville.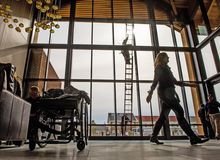 Any family with a wounded soldier knows that "you're either in the hospital or hotel or in an outpatient living arrangement," Mrs. Causey said.
"That's where you exist. There's really no place to escape. The center, she added, "it's somewhere else."
Officially called the USO Warrior and Family Center at Fort Belvoir, the Fairfax County center was built not only with recovering patients and their families in mind, but also for families and soldiers who need support before they head overseas or face the real world back in the States. It will be open from 6 a.m. to 10 p.m., 365 days a year, and will be staffed by 350 volunteers.
The massive building is located within the base's Warrior Transition Unit Complex, which includes barracks, the Fort Belvoir Community Hospital and amenities for family members and supporters of wounded soldiers.
With just days to go before the opening, on Monday the center was a hive of activity as cleaning crews scrubbed floors and IT technicians connected computers, televisions, printers, and projectors.
Ground broke on the $12 million center in June 2011 and is the first of two USO centers slated to open in the Washington area in as many years. A smaller center is to open next year in Bethesda for roughly the same cost. Among the many donors who gave money for the center is actor Charlie Sheen, a bad boy of Hollywood who has had his run-ins with law — including with D.C. police officers who provided him with an escort two years ago. He gave $1 million.
The center's grand opening is Tuesday, and the first soldiers and families to use the facility are scheduled to arrive three days later. The center's kitchen and lounge area did go for a test drive during a Super Bowl Sunday party.
"We wanted a home away from home, someplace that felt non-institutional," said Brian Pilot, an architect with Studios Architecture in the District, who led the building's design and construction.
Mr. Pilot's team interviewed soldiers and their families to get a sense of the kind of building and amenities that would be most helpful.
"The design was to make it feel like a place for them," he said.