Military officers assigned to the Pentagon do not vote on who becomes secretary of defense, but if they did, former Sen. Chuck Hagel might finish in second place.
As Defense Secretary Leon E. Panetta's expected exit drew closer over the past year, several senior Pentagon officers expressed admiration for Michele Flournoy, the Defense Department's undersecretary for policy from 2009 to February last year.
They especially liked how Mrs. Flournoy, an active Democrat, kept politics out of decision-making and argued to support the commanders' requests for troops in Iraq and Afghanistan.
Now the Pentagon is bracing for a potential new boss who spent 12 years in the Senate and currently oversees a Washington foreign policy think tank but whose agenda for the armed services is murky at best.
"Many were excited at the prospect of Michele Flournoy because she had previously garnered a great deal of trust and respect, and was not thought to be a political animal seeking change for change's sake," an Army officer who is assigned to the Pentagon and who fought in Afghanistan told The Washington Times. "Hagel, on the other hand, is a source of concern to many who perceive him to come to the position with a blind ambition."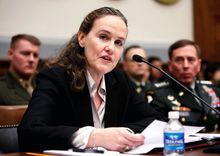 President Obama has nominated Mr. Hagel to succeed Mr. Panetta amid growing protests from Senate Republicans who view the chairman of the Atlantic Council as being too soft on Iran and too hard on Israel.
Mrs. Flournoy would have been the nation's first female defense secretary. "She would have received a much more favorable reception from Republicans," a Senate staffer told The Times.
Mr. Hagel arrived in the Senate as a conservative Nebraska Republican who voted for the 2003 U.S.-led invasion of Iraq. He left in 2009 as an Obama ally and one of the fiercest critics of President Bush on nearly every aspect of foreign policy, especially on dealing with the Islamist state of Iran, for which he advocates unconditional talks and U.S. business investment.
Since 2009, Mr. Hagel has served on the Defense Policy Board, a government group of former officers, officials and specialists who meet periodically to advise the defense secretary.
"He had turned left of left by then," said a source familiar with policy board meetings. "I guess it is the influence of the Obama administration. He spoke against military interventions, especially Iran."
As a senator, Mr. Hagel predicted in 2007 that Mr. Bush's announced Iraq troop surge would turn into a historic blunder — which it did not.
Mr. Hagel's detailed views on the use of power, the $633 billion defense budget and the size of the military will come more into focus during Senate Armed Services Committee confirmation hearings.
He would inherit a department that is grappling with $480 billion in spending cuts over the next 10 years and the prospect of a further $485 billion reduction through a process called sequestration. Mr. Panetta's first round of cuts kept most major weapon systems, including the increasingly costly F-35 Joint Strike Fighter.
Even if Congress and the White House reach a deal to scuttle sequestration, another agreement likely would require some additional cuts and present Mr. Hagel with immediate budget decisions.
The past three defense secretaries — Donald H. Rumsfeld, Robert M. Gates and Mr. Panetta — had war as their top priority.