Even as it warns that the across-the-board budget cuts are still biting, the Obama administration has found ways to soften the impact of the sequester — rethinking planned worker furloughs and restoring military operations that had been cut.
The Internal Revenue Service announced this week that it had found enough money elsewhere in its budget to cancel next week's planned agencywide furlough, following similar announcements this month by the Equal Employment Opportunity Commission and the U.S. Park Police, which also said they have freed up enough money to cancel furloughs.
Meanwhile the Air Force has money to send the Thunderbirds, its demonstration flight team, back into the skies to train for next year, though air shows are still canceled this year. It also has restored flight operations to bases across the country after the Pentagon reprogrammed funds.
Sen. Tom Coburn, Oklahoma Republican and Congress' top waste-watcher, has tracked agencies' dire warnings in the weeks ahead of the March 1 sequester date and saw that many of them failed to materialize. He said the latest moves suggest the administration finally is making hard decisions.
"By canceling furloughs they claimed were inevitable and unavoidable, the administration has shown they do, in fact, have flexibility. They have made sequestration cuts by eliminating low-priority spending first," Mr. Coburn said.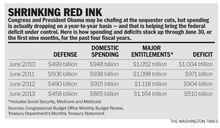 In the run-up to March 1, when the $85 billion in cuts took hold, the administration sent letters to Congress warning that it would have to send FBI agents on furlough, kick 600,000 low-income women and children off food assistance and eliminate funding for school districts.
The Washington Post this month reported that it checked out 48 of the administration's dire predictions and found that 11 have come true, 13 cases are too early to tell, and 24 have not come to pass — in part, The Post said, because the administration used the flexibility it had said was impossible.
Some serious consequences have materialized.
Senate Democrats met for half an hour Thursday with Dr. Francis Collins, head of the National Institutes of Health, who told them that 700 research grants have had to be canceled, halting some avenues in the search for cures to cancer and diabetes.
"It was heartbreaking, a tragedy what is happening at NIH," said Sen. Charles E. Schumer, New York Democrat. "Young children being denied their clinical trials and facing no hope because of cutbacks. Amazing breakthroughs in research that will save the lives of some of us right here — we don't know who we are yet — being stopped. And we have to let the American people know."
Senate Democrats said they are beginning a campaign to cancel the sequesters and challenged Republicans to join them in finding tax increases that could help offset some of the trims.
Helping the bottom line
For now, though, the deep cuts are having a positive effect on the federal government's bottom line. Indeed, since Republicans took control of the House in 2011 and pushed spending cuts to the fore of the Washington debate, spending has dropped, and so have deficits.
Spending on defense and basic domestic programs dropped from $1.447 trillion in the first nine months of fiscal 2010 to $1.323 trillion through June 2013. Combined with a better economy and higher taxes, the deficit dropped from more than $1 trillion in June 2010 to just $510 billion now.
Agencies say they have been forced to make tough decisions.