After record millions spent on TV advertising in Virginia's governor race, Republican Kenneth T. Cuccinelli II finds himself in the unenviable position of knowing there's a side to him voters haven't experienced.
Portrayed by his opponents as a rigid social ideologue, he nevertheless can rap his own rendition of the Sugarhill Gang's "Rapper's Delight" and is an unapologetic Monty Python fan.
Lambasted by Democrats as uncaring and cold, he remembers the awe of watching his Catholic school care for the poor or the experience of his personal crusade for sexual assault victims in college after one of his friends was attacked.
---
SEE ALSO: Ken Cuccinelli: Tea-leaf reading is for the pundits
---
Mr. Cuccinelli's much better funded opponent, Democrat Terry McAuliffe, has painted him as a tea party crusader trying to seize power for an extremist wing of his party. His wife, however, remembers a man who started in grass-roots politics and originally made a deal with her that he would never to run for office.
"I did not like politics. I never liked politics — and sometimes I still don't," his wife, Teiro, told The Washington Times in a weekend interview.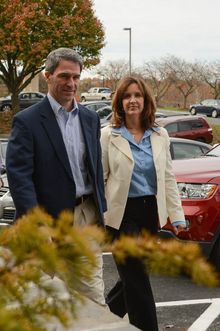 Therein lies one of the enduring lessons of Virginia's 2013 gubernatorial race: Mr. McAuliffe and a well-funded band of outside liberal groups raced to define Mr. Cuccinelli before the Republican could ever define himself. That has left the attorney general fighting from behind from start to finish as voters head to the polls Tuesday to select the state's 72nd governor.
---
SEE ALSO: PRUDEN: Chris Christie is the dreamboat with barnacles
---
Members of Mr. Cuccinelli's family delivered a portrait of him working as an intern for L. Douglas Wilder, a Democrat and the country's first elected black governor — taking enough of an interest in politics to be involved, but not as a candidate.
"I didn't feel like I was giving anything up, and we never talked about it again," the Republican says now of the agreement he made with his wife.
But Mr. Cuccinelli came home one day ranting about a candidate. A flurry of thoughts — Ken's meant to do something with this, I'm the one standing in the way, I'm the stumbling block — simply came out, Mrs. Cuccinelli said.
"I didn't verbalize any of that to him until that day, when I said, 'Well, why don't you run for office? Why don't you run against this guy?'" she said.
It was past the deadline to file as a candidate that year, but Mr. Cuccinelli immediately began planning a campaign. After Republican state Sen. Warren Barry endorsed Mark R. Warner for governor in 2001, Mr. Cuccinelli announced plans to run against him.
An appointment to the Warner administration dashed those plans, but he won a special election to fill the vacated seat in 2002 and served as a state senator before getting elected as attorney general in 2009.
Beneath the surface
For his wife, and others who know him well, there's much more beneath the surface of the rock-ribbed conservative. Opponents deride him as an activist attorney general and crusading social conservative as likely to sue a professor whose science he disagrees with as he is to attempt to take away a woman's birth control.
A Roman Catholic father of seven, he is trained as a lawyer and an engineer — a combination that might explain how he can come off as a skilled debater and a policy wonk simultaneously.