INDIANAPOLIS — The nation's most powerful gun rights group is gathering in this heartland city this weekend in an upbeat mood, with NRA members and attendees at the group's annual meetings emboldened by a slew of policy victories and ready to press for more.
The motto for this year's meeting at the Indiana Convention Center — "Stand and Fight" — befits the pro-gun group's no-holds-barred advocacy and lobbying that has even the most aggressive gun control advocates conceding that they are playing catch-up to the National Rifle Association's top-to-bottom organizational and institutional prowess.
About 14 months since the Newtown, Conn., school shootings, which lit an intense fire under the gun control movement, the issue appears to be moving in the other direction in many cases.
---
SEE ALSO: NRA's LaPierre: Country 'slipping away,' gun owners 'willing to fight' for control
---
---
PHOTOS: These pro-gun celebrities may shock you
---
Georgia Gov. Nathan Deal, a Republican, signed into law this week what critics have dubbed the "guns everywhere" bill, which will allow guns in churches, schools and other public places.
"Georgia's absolutely doing the right thing," NRA member Tony Alexander, 72, said Thursday inside the convention center. "Without the Second Amendment, there is no First Amendment."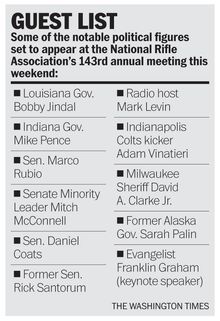 But among many of the 70,000-plus convention attendees, the focus was on the future — political priorities that include reciprocity for concealed-carry permits, the midterm elections and addressing fears of government-involved ammunition shortages.
Some priorities are manageable. Mike Bazinet, a spokesman for the National Shooting Sports Foundation, the trade group for the guns and ammunition industry, said the ammunition shortage has been easing for several weeks and was a result of consumer demand, not federal government purchases.
Other goals — such as securing reciprocity for concealed carry permits when permit holders travel across state lines — are more daunting. In 2011, the House overwhelmingly passed a measure that would do just that. In January, Sen. John Cornyn, Texas Republican, introduced a Senate version that has attracted two dozen co-sponsors. But any bill would be subject to filibusters and the threat of President Obama's veto pen, even if Republicans retake control of the Senate.
Though gun control advocates suggest that the NRA's influence has been declining since Newtown, at least 30 states have passed some kind of pro-gun legislation this year, a stark contrast from last year, when a half-dozen states approved gun control bills in the wake of the Newtown shooting spree and a mass shooting in Aurora, Colo.
Kansas Gov. Sam Brownback, a Republican, announced Wednesday that he signed a bill preventing local officials from restricting the sales of firearms and ammunition or regulating how guns are transported and stored, a measure designed to ensure that the state's open-carry laws can effectively operate statewide.
South Carolina Gov. Nikki Haley, a Republican, signed a bill in February that lets concealed-carry permit holders bring guns into bars and restaurants. Three other states are considering similar measures, according to the Law Center to Prevent Gun Violence.
Col. Wayne Anthony Ross, a former vice president of the NRA, told convention attendees Thursday that a way to continue the momentum is to bring younger people to the movement.
"You should be bringing your kids and your grandkids," he said. "If we're going to preserve our freedoms, we need to make sure to bring young people in to carry on the torch."
John Hudak, a fellow in governance studies at the Brookings Institution who tracks the gun issue, said the group's recent record has successes as well as setbacks, but "in a lot of ways, they're as strong as ever."
The NRA Political Victory Fund had $14.1 million on hand at the end of the first quarter, according to the Center for Responsive Politics.