Bald, bearded and built square, Redskins running back Silas Redd is a stylistic and physical counter to fellow back Lache Seastrunk.
Seastrunk's preference is to run outside the tackles, changing directions with the predictability of a squirrel in the street. Redd will steam through the center or behind a guard.
Though each are listed at 200 pounds, Seastrunk is decidedly leaner than Redd. Their common trait lays in their circumstance: Each has a distant shot to become the third running back on the Redskins' roster.
---
PHOTOS: Redskins-Patriots preseason opener
---
Thursday night's mostly trivial preseason opener — a 23-6 Redskins win against the New England Patriots at FedEx Field — was vital for Redd and Seastrunk.
The running back order is clear at the top. Alfred Morris remains the No. 1 back. He's set to build on his 1,275 yards from last season, good for fourth in the league. Roy Helu Jr. appears the backup. That leaves one spot for everyone else.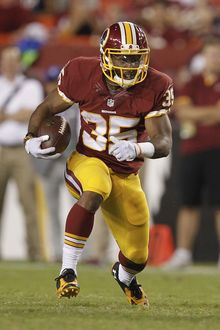 Seastrunk was a sixth-round pick in May's NFL draft. Redd never heard his name announced during that three-day circus and signed as an undrafted free agent.
---
SEE ALSO: Robert Griffin III has quiet opener, but at least he's on the field
---
Thursday night, each pushed for a spot.
Seastrunk finished with a team-leading 63 yards on 12 carries. Redd compiled 45 on his nine attempts. They split carries throughout the fourth quarter when, it should be noted, the Patriots defense was filled with names that forced a roster to be held and referenced.
"I was impressed with both of them," coach Jay Gruden said. "Redd between the tackles – he's a good power runner. He's got great vision. He's shown that in practice so far, and we wanted to see him carry it over to the game – and it did today.
"Lache is obviously known for his big-play ability, and he popped a couple again today. You know, it hadn't shown that much in practice. He's just got to do a better job lowering his pads. He takes some of the more violent hits I've seen a running back take."
Afterward, Redd assured there was no animosity between the rookie running backs fighting for a place on their first 53-man roster.
"Lache had a couple of great runs out there," Redd said. "I was able to feed off him, and I was able to have a couple great runs. It was a tit-for-tat kind of thing. We're both young. We're both out here grinding."
Seastrunk has common ground with Redskins quarterback Robert Griffin III. Both went to Baylor. Seastrunk grew up in Temple, Texas, a town of about 70,000 born out of late 19th century railroad development. After bouncing around, Griffin settled in Copperas Cove, Texas, about 40 minutes west of Seastrunk and Temple.
"He kind of knows me and I know him," Seastrunk said. "We grew up together in the same area. Really, I lean on him."
Seastrunk is not bashful. At Baylor, he deemed himself the best back in college. He also predicted a Heisman Trophy win. Thursday, he fluctuated between saying how humbled he is to have an opportunity to play and saying when he was put into the game, he knew it was his "time to shine."