A leading Iraqi pollster said the Obama administration's push for a cross-sectarian government in Baghdad will work only if it includes serious outreach to former Baathists, local Sunni tribal leaders and other armed groups who have the power to drive surging al Qaeda-minded extremists from the nation's western and northern regions.
The assessment, by Munqith Dagher, a respected Sunni political adviser who has conducted hundreds of polls in Iraq over the past decade, came as U.S. Secretary of State John F. Kerry made a surprise visit to Baghdad Monday to push a message of inclusion on leaders of Iraq's Shiite, Sunni and Kurdish political factions to confront what he called an "existential threat" to the country.
Mr. Kerry called on the bitterly divided factions to honor commitments to seat a new Iraqi parliament next week before a burgeoning Sunni insurgency — which has become aligned with al Qaeda-inspired Islamic State of Iraq and the Levant (ISIL) during recent weeks — crushes any hope for a lasting peace in Iraq.
---
SEE ALSO: White House precedent on Syria may complicate additional moves on Iraq
---
"This is a critical moment for Iraq's future," Mr. Kerry said at a press conference on Monday evening in Baghdad. "It is a moment of decision for Iraq's leaders, and it's a moment of great urgency."
The Obama administration did notch one minor diplomatic victory, with the Pentagon announcing a deal with the Baghdad government to provide legal protections for the American commandos the president has ordered to the country to assess and advise Iraqi forces, three years after efforts to reach a similar pact for a larger U.S. force failed. Rear Adm. John Kirby told reporters Monday that Iraq had given assurances for the short-term mission in a diplomatic note ensuring that troops will not be subject to Iraq's judicial process.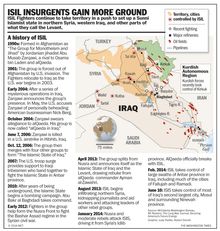 Mr. Kerry, who flew into Baghdad Monday morning on a C-17 military aircraft, arrived just a day after Sunni militants had captured two key border posts, one along Iraq's western frontier with Jordan and the other along the border with Syria.
The developments served only to increase pressure that has been mounting on Iraqi Prime Minister Nouri al-Maliki, who has faced growing calls to resign amid Iraq's current security meltdown.
Mr. Kerry began Monday by meeting with Mr. al-Maliki, a Shiite accused by many in Iraq — and in Washington — of having ostracized the nation's Sunni minority to the point of driving them into the hands of radical Islamist militias in recent months.
Iraqi officials briefed on the meeting said Mr. Kerry pushed back against Mr. al-Maliki's appeal for the United States to unleash airstrikes against Sunni militant positions in Iraq and neighboring Syria.
According to the officials, who spoke only on condition of anonymity, the secretary of state told the Iraqi prime minister that great care and caution must be taken before U.S. strikes could be launched so as to avoid civilian casualties that could create the impression that Americans are simply targeting Iraq's wider Sunni minority rather than specifically going after ISIL.
Mr. Kerry's message suggests the Obama administration is holding out hope that Iraq's more moderate Sunni groups may still be willing to disassociate themselves from ISIL — and perhaps even take a stand like that which many Sunnis embraced during the height of the U.S. military occupation of Iraq nearly a decade ago.
In 2005 and 2006, Sunni tribal leaders aligned with U.S. military forces in Iraq's western Anbar province organized a movement known as the "Sunni Awakening" and the "Sons of Iraq," which worked to rout al Qaeda fighters in the area.
Reviving the alliance
According to Mr. Dagher, the Iraqi pollster, the prospects are very real that such a movement could be quickly revived — if the right moves are made in Baghdad during the days and weeks ahead.
"The real power in the Sunni areas that have thrown off Baghdad's control in recent weeks belongs not to the Islamic State of Iraq and the Levant, but to local, armed groups that include former Baathists, former Iraqi army [from the Saddam era] and local tribes," said Mr. Dagher, who heads an influential research and polling outfit known as the Iraqi Institute for Administration and Civil Society Studies, and who is visiting Washington this week.