North Carolina state House Speaker Thom Tillis won the Republican Senate primary race Tuesday in one of several outcomes that suggests party voters may have learned the lessons of recent elections, picking establishment candidates over outsiders.
While Mr. Tillis was securing at least 40 percent of the vote required to avoid a potentially costly and unpredictable July runoff election, House Speaker John A. Boehner rolled to victory in his primary, successfully fending off a pair of tea party backed challengers in Ohio.
With 84 percent of the precincts reporting, Mr. Tillis led the eight-person field with 45 percent of the vote, followed by obstetrician Greg Brannon with 27.4 percent and Mark Harris, a Baptist pastor, with 17.7 percent.
Mr. Tillis will face Sen. Kay Hagan, who easily won her Democratic primary and is a top GOP target in the November election.
The Associated Press called the race for Mr. Boehner about an hour after the Ohio polls closed, putting the Republican a step closer to securing his 13th term in Congress and to seeking a third term as speaker.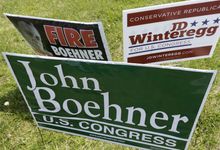 "I am humbled to have such strong support from the people of the 8th Congressional District, and I look forward to continuing to lead the U.S. House in addressing our shared priorities of jobs and the economy," Mr. Boehner said in a statement. "With better solutions I know we can break America free from the Obama economy's sluggish growth."
In some of the other most-watched Republican primary contests, Rep. Renee Ellmers, who represents North Carolina's 2nd Congressional District, defeated Frank Roche, who attacked her support of immigration reform.
Rep. Walter Jones defeated Taylor Griffin in North Carolina's 3rd congressional district, while freshman Rep. David Joyce outpolled state Rep. Matt Lynch, a tea party challenger, in Ohio's 14th congressional district primary contest.
In Indiana, Rep. Susan Brooks was declared the winner in her race against David Stockdale in Indiana's 5th Congressional District.
On the Democratic side, "American Idol" runner-up Clay Aiken was clinging to a lead in his three-way primary in North Carolina's 2nd Congressional District.
Heading into the night, several of the Republican races had been cast as the first of a series of high-profile primary battles between the picks of the Republican establishment and those of groups aligned with the tea party.
That was crystallized on the eve of the North Carolina election in 2012 when presidential nominee Mitt Romney endorsed Mr. Tillis and Sen. Rand Paul, Kentucky Republican and tea party favorite, headlined a rally for Mr. Brannon.
But the support for Mr. Tillis' rivals never reached the fevered pitch that helped propel tea partyers to victory in the 2010 election cycle, as grass-roots activists were divided between Mr. Brannon, a libertarian, and Mr. Harris, a Baptist pastor who was endorsed by former Arkansas Gov. Mike Huckabee, also a former minister.
Mr. Tillis, meanwhile, received support from Mr. Boehner, Senate Minority Leader Mitch McConnell, Kentucky Republican, and former Florida Gov. Jeb Bush.
Outside groups also funneled more than $5.1 million into the race in favor of Mr. Tillis, including more than $1.6 million from Bush political adviser Karl Rove's American Crossroads group. The U.S. Chamber of Commerce also ran pro-Tillis spots in the run-up to the election.