After careful consideration, I have decided to buy the Sig Sauer P229 two-tone. I knew I wanted a full-size 9mm that I could handle well and that felt comfortable in my hands (click to watch a video of me shooting it.)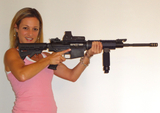 To help with the final decision, The Washington Times launched a poll seeking input from gun enthusiasts. The Sig Sauer won with 27 percent of the vote. The Springfield Armory XD(M) was a close second with 23 percent, and the Glock 17 came in a distant third at 15 percent.
Along the way, I realized I should choose one made in the USA. This narrowed down my options significantly, but I discovered that the P229 was manufactured at Sig's plant in Exeter, NH. Plus I think their guns look cool — especially the two-tone (black and stainless) version.
Quality guns are expensive. As I am new to the gun world, I thought it would cost maybe $400. So I was surprised to find that a new ones ranges from about $600-$1,200.
To find the best price, I called two local gun stores. Atlantic Guns in Maryland and Virginia Arms, but neither had what I wanted in stock. Sharpshooters Small Arms Range in Virginia could get it in a couple days, but the price was higher than online dealers.
I asked around for suggestions of well-priced online stores and also googled the model number. In the end, I looked at about 18 dealers and found the best price at BudsGunShop.com, CheaperThanDirt.com and GrabaGun.com - all about $750.
Before I made the purchase, I checked the paper packet from D.C. Gun Registry to be sure I was getting a gun eligible for registration. Three pages explain the firearms that cannot be legally owned in the nation's capital. The list of prohibited guns didn't seem to apply to mine, including things like sawed-off shotguns, automatic firearms, short-barrelled rifles and .50 BMG rifles.
The city also has a whole page of illegal "assault" weapons, which lists specific makes and models, as well as prohibited features that range from a grenade launcher to a grip that protrudes conspicuously beneath the action of the weapon or a gun that can accept a threaded barrel.
The end of the document explains that guns eligible for registration must be on the California Roster of Handguns Certified for Sale. That list is conspicuously missing from the registration packet.
However, on the city's website, there is a list of firearm makes and models, which appears to be the California roster with the D.C logo stuck on the top. One of the regulations to getting a gun registered is proving you have good eyesight, which the city must be testing by posting a 13-page list of guns in about 6pt font.
Squinting at my laptop screen, I scrolled down to the Sigs and found my gun listed: "P229 (Two-Tone)/Stainless Steel, Alloy, P, 3.9", 9m." Yes, the District actually believes it's important to approve the gun's color scheme.
But still, I was nervous about making such a big purchase without being 100 percent sure it was legal. I called the city's only legal gun dealer, Charles Sykes. He had some news since we last spoke. "Remember I told you that you could buy any gun on the three state lists- Maryland, Massachusetts and California - but only ones that had been on the lists since 2009?" It rang a quiet bell. "Well they upgraded it, now you can buy any gun that is on those lists as of today."
"Really? I'm surprised D.C. would do something like that. When did this happen? Did they tell you" I asked.
"Nope," he replied and was silent for a moment. "Why would they be to informative to me? What time, when, how this happened - I have no idea. It just happened."
I asked him for more help on having the gun sent from the online dealer to him. "Ask if they have my new address," Mr. Sykes said referring to his new office in the same building as police headquarters. "Make sure they have my licence on file. If not, get their name and fax number for me to send it."
He added, "Try to get them to send UPS or, second, FedEx but not the postal service because they don't deliver at police headquarters, and I want my guns passing through as few hands as possible." The post office doesn't deliver to the police department? This city never ceases to amaze me.
Anything else? "You know to make sure they only send the 10-round magazine and keep the 'high-capacity' at the store."
Gulp. I quickly thumbed through the three pages of guns that are illegal in D.C. and saw no reference to the legal-limit magazine. But near the front of the 22-page packet, there was one line that said, "Please note that it is illegal to posses a magazine that holds more than ten rounds of ammunition in the District of Columbia." So now what?
I asked Mr. Sykes, "Can they just swap out the magazine at the stores?"
'"Doesn't matter to me," said Mr. Sykes. "Just make sure they don't send me a gun with a high-capacity magazine because you can't register it."
I was back at square one. I called the three stores where I'd found the best prices to ask to switch out the magazines. After explaining the situation to a man at CheaperThanDirt.com, he said they can't switch the magazine, and, anyway, "we don't ship to D.C." I explained that it's legal to send to Mr. Sykes, but he refused. I called GrabaGun.com twice in two days, but kept getting voicemail.
A nice man at BudsGunShop.com checked the Sig Sauer model list and explained to me that the manufacturer doesn't make the two-tone model with a lower-round magazine. I thought they were interchangeable, but I guess not. He had an all-black model in a 9-round capacity - marked "California legal" - for $833.
I pulled up the websites of eight online stores look for the 10-round version of the P229 in black. It seemed I'd have to pay anywhere from $50-$75 more to get a gun with a magazine holding 3 fewer rounds. And I couldn't buy the two-tone style I preferred.
I was so frustrated at this point, I considered giving up trying to buy American and just getting the Glock or Beretta I liked, but I wanted to figure this out for other residents who hit this same wall.
If you have any suggestions or recommendations on what I should do now to purchase the gun, please use the comment section. Or you can send your advice to be on Facebook or Twitter. I'd really appreciate the help.
Next up in the series: I Bought a Gun in D.C., But…
"Emily gets her gun" is a new series following senior editor Emily Miller as she legally tries to get her hands on a gun in the nation's capital. You can also follow her on Twitter @EmilyMiller.