Room 1140 on the DMV hallway is marked with a small sign "CS Exchange" and a taped-up paper that warns away anyone who might be looking to fight parking ticket. Behind the nondescript brown door is the private office of Washington D.C.'s only legal gun broker: Charles Sykes.
You can't just go out and legally buy a gun in the nation's capital. If you purchase a pistol from another state, whether in person or over the Internet, you can't ship it to your residence in the District, nor can you drive it back over the Potomac river.
In the 21-page packet of papers given to potential gun owners from the Firearm Registration Section, there is not a single word to explain how one would go about bringing a purchased gun into the city after registering it. The one clue the police do provide is a Xerox copy of Mr. Sykes's business card stapled to the registration form.
Last week, I went to find his office, which is also in the same massive government building as police headquarters. The door was closed and locked. I waited in the hallway awhile until a gruff man came up to me and asked, "What are you doing?"
"I'm just waiting to talk to Mr. Sykes about getting a gun," I said. He stared at me hard.
"Do you have an appointment?" he asked. I said that I did not, but I was just hoping to talk to him briefly.
"I am Charles Sykes," he said. "I only see people who have an appointment. But you're here, so come in for a minute." He led me into his run-down government office.
I asked him about the gun ownership process, and, after a few minutes, he relaxed and spoke more openly. A dealer since 1994, Mr. Sykes is all too familiar with the rules and regulations put in place to slow or stop law-abiding citizens from owning guns. "I don't understand why they try to make it so difficult for the honest people from getting a gun the right way," he told me.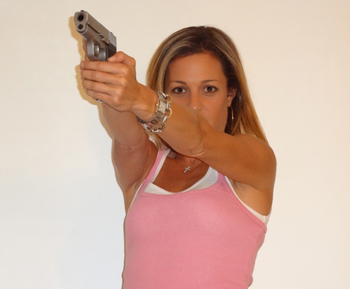 Until the District's gun ban was repealed by the U.S. Supreme Court in 2008, Mr. Sykes's business was limited to transferring guns for police officers and security businesses. He said that since the high court's decision in the Heller case, the city has only registered about 1,500 guns, about half of which were new purchases. So while gun sales have been skyrocketing in the rest of the country, D.C. residents have been buying at a rate of about 250 a year.
Despite having a complete monopoly on gun transfers in the District, Mr. Sykes said, "I'm not making much." He charges $125 to pick up the gun and do the transfer. The demand is not there for Mr. Sykes to devote an entire day to the work of selling or transferring guns. He works by appointment for about four hours in the midday. He does other work in the evenings to supplement his income.
During the 45 minutes that we spoke, no one else came to the office. "You don't see a big line outside that door? It's not like it's a sale on iPads or iPhones where people camp out the night for the door to open in the morning to get in here," he said, laughing.
Last May, Mr. Sykes lost his lease when his office building was sold. The city then took advantage of a stray word in the law to classify his business as a "firearms retail sales establishment," which made it almost impossible for him to relocate. The designation meant he couldn't be within a football field's distance from a school, church, apartment, house or library. In this tightly packed city, that left no reasonably priced options. The city gave him a small-scale map of where he could set up shop, but the map didn't even have street names on it.
Thanks to a pending lawsuit, however, city officials realized the court could rule against them for wholly denying residents the ability to buy a gun within the law. When Mr. Sykes proposed the idea of leasing government space, they relented and agreed to a spot downstairs from the police headquarters. There are six newly framed licenses on his wall that showcase what was required to set up shop inside the government building. He re-opened in August with a one-year lease.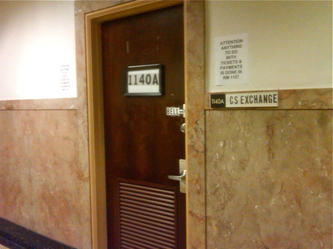 Recently, I asked D.C. City Council Chairman Kwame Brown whether he supported the Second Amendment. "I don't support having more guns in the District of Columbia," he replied "I don't think we need more guns in our streets."
Mr. Sykes shook his head when he heard this. "In all other cities, you can have guns. Why do they say, 'We don't want guns in the nation's capitol?' They are here. And you can go a lot of different places and get them just like that," he said, snapping his fingers.
Clearly, the city's political leaders have deliberately made owning a legal handgun a difficult process. But, I'm determined to get through all their barriers. My next step is to tackle the paperwork and forms required by the registration office. Check back for the next installment of "Emily Gets Her Gun."
Next in the series: Steps to Gun Ownership in D.C.
"Emily gets her gun" is a new series following senior editor Emily Miller as she legally tries to get her hands on a gun in the nation's capital. You can also follow her quest on Twitter.