Washington, D.C.'s restrictive gun laws are being used to persecute soldiers. The pattern is disturbing, as what follows is the third case I've uncovered of a veteran being unfairly prosecuted under laws that should not be on the books.
(Click to read the stories about veteran Sgt. Matthew Corrigan and veteran Lt. Augustine Kim.)
In September 2011, former Army Specialist Adam Meckler was arrested at the VFW in the District because he happened to have a few long-forgotten rounds of ordinary ammunition in his bag. The veteran of both the wars in Afghanistan and Iraq was jailed and later accepted a plea deal, which he now regrets.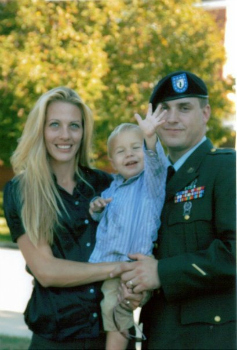 In May, a new law was enacted in the District make the ammunitions restrictions more reasonable, but it did not go far enough.
According to the National Rifle Association, there are only two states, Illinois and Massachusetts, and three major cities, D.C., New York City and Chicago, that have general prohibitions on possession of ammunition without a license, even if the accused doesn't have a gun.
There is no legitimate public safety reason for criminalizing ammunition possession. It only serves to punish law-abiding gun owners doing normal activities, such as what happened to Spc. Meckler.
An errand at VFW
Spc. Meckler was only 15 days out of active duty and still living at Fort Belvoir when he had to go into the District to turn in his medical records. On Sept. 18, he went to the VFW, which is located inside the Veterans Affairs D.C. regional office, four blocks from the White House. The Army medic carried these paper loosely and created a mess going through the scanner conveyer belt.
The next day, the Kentucky native had to return with more documents so he took his first-aid backpack to keep the papers from flying around again at security. He had used this same bag to do medical coverage at the shooting range for his job and when he shot recreationally. Spc. Meckler owned his military-issued sidearm, the Beretta M9 and a Springfield XDM, also in 9mm.
He took the Metro into the city. At the entrance of the Eye Street building, he got in line to go through the magnetometers again. When it got to his turn, he put the backpack on the conveyer belt. Expecting to be waved through the checkpoint, he was shocked that the security guard held him in place.
Caught with 9mm rounds
"The guard looking at the monitor screen had this crazy look on his face," Spc. Meckler recalled, when I interviewed him recently. The head security guy walked over to look at the screen. Unbeknownst to Spc. Mecker, the guard saw some rounds of 9mm ammunition in the bag.
He yelled out, 'Cuff him!'" A guard told Spc. Meckler to put his hands behind him, then slapped steel cuffs tightly on his wrists.
Instead of confiscating the ammo or taking him to Metropolitan Police Department headquarters for arrest, they created a huge, unnecessary scene in the federal government building.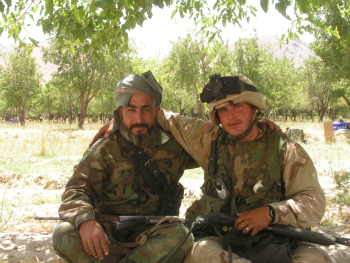 "They yelled for the people in line behind me at security to back out of the building," said the combat vet. "As people were coming off the elevator, they were telling them to get back on. They shut down the lobby. It was like I had explosives or something in my bag."
During this melee, Spc. Meckler had no idea what was happening. "I was thinking, what is in my bag? I thought, there is no way its a gun, all my guns are locked up. I'd made sure there were no knives in the bag."
The guards told him that they found ammunition, but that did not surprise him. "I have plenty of bags with random ammo in them. It never crossed my mind to look for them before going into D.C.," he explained. He
He was never been shown the illegal property. To this day, he's not been told where in the bag they found the rounds or how many he had. A spokesman for the District's Office of the Attorney General told me that they discovered 14 rounds of 9mm. In retrospect, he thinks the ammunition was thrown in the bag haphazardly after a recreational shoot. "I think the last time I went to the range to shoot, my father-in-law gave me some rounds. And I emptied a magazine and tossed them in the bag," he said
Spc. Meckler apologized profusely to the guards and explained what he thought had happened. One of the guard at the VFW initially sounded reasonable. "He said, 'This happened a couple of weeks ago with another soldier. We'll get this straightened out.'" The soothing words were far from the mark.
'Am I really going to be arrested for this?'
The security officer walked Spc. Meckler down the hall, with one guard in front and one behind. As people came out of their offices, they yelled for them to get back in and close the doors. "It was embarrassing. People looked at me like I was a terrorist," the Army medic recalled.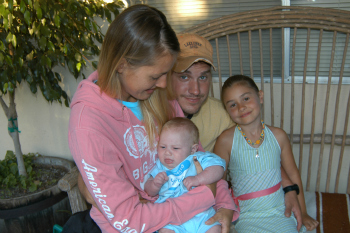 As the veteran was being marched in restraints by armed guards, he thought back to his both his 15-month tour in Iraq and 15-month tour in Afghanistan. "I can't tell you how many people we PUCed — we put in flexi cuffs — and took them out of the village because we found explosives on them, but not for having some rounds on them."
Spc. Meckler said his unit raided villages in Afghanistan and detained people with massive weapons caches that contained anti-aircraft rounds and piles of RPG rounds.
In Iraq, he went on "countless missions" to grab high-value targets and restrain them in a similar manner. Though Spc. Meckler tangled with terrorists on foreign soil, the worst he could have done with this ammunition in the capital was throw it and perhaps leave a red mark on a witness.
Inside the security office, Spc. Meckler was handed off to uniformed federal police officers from Veterans Affairs. "I was completely submissive. I didn't want to be a problem," the 9-year Army vet recalled.
The federal police officer asked Spc. Meckler if he knew that ammunition was illegal in the District. He said he did not. The officer replied that it was and began to read his Miranda Rights. Spc. Meckler said he interrupted to ask, "Am I really going to be arrested for this?'" The officer confirmed he was.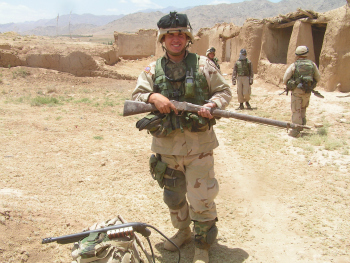 The D.C. attorney general's spokesman, Ted Gest, told me that prosecution for unregistered ammunition is "common."
Some cases are an added charge on top of unregistered firearms and others are for possessing restricted ammunition, such as hollow-point bullets. He said the maximum penalty for the charge is $1,000 fine and one year in jail.
Spc. Meckler kept trying to explain the simple misunderstanding, but the officers were not listening.
"I understand that it was my fault that the rounds were in the bag. I understand the lengths the security officers went to make sure that I was not a threat," he said. "What I don't understand is that, after everyone completely understood the situation that I had accidentally put myself into, I was still arrested."
While waiting to be transferred to jail, he asked the officers to loosen his handcuffs, but they refused. "I'm a big guy," he said. "I've been in those flex cuffs before in training, but I've never been in those steel kind." The handcuffs left marks on his wrists.
CLICK HERE TO READ PART TWO: Spc. Meckler is jailed and prosecuted for unregistered ammunition.
Emily Miller is a senior editor for the Opinion pages at The Washington Times. Her "Emily Gets Her Gun" series on the District's gun laws won the 2012 Clark Mollenhoff Award for Investigative Reporting from the Institute on Political Journalism. You can also follow her on Twitter and Facebook.