A liberal advocacy group in Texas is blasting the chairman of the state's Railroad Commission for re-tweeting a link on Thursday to an image that includes the names of the 16 Republicans who voted to advance gun legislation in the Senate alongside a picture of a noose and the word "TREASON."
Barry Smitherman, who won election to his seat in 2012 after being appointed by Gov. Rick Perry to replace a vacant seat in 2011, re-tweeted a message that included the link Thursday afternoon.
---
SPECIAL COVERAGE: Second Amendment and Gun Control
---
"Make sure none of these people have seats in 2014," the full message reads. "We are in trouble when these Rs side w/ Sen Reid" — a reference to Republican senators who voted with Democratic leader Harry Reid in the vote.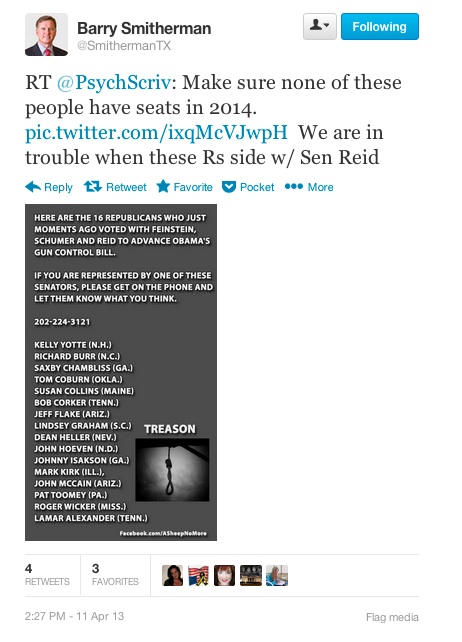 The graphic reads: "Here are the 16 Republicans who just moments ago voted with Feinstein, Schumer and Reid to advance Obama's gun control bill. If you are represented by one of these senators, please get on the phone and let them know what you think."
(Click image to enlarge)
The graphic then lists the 16 senators, though the last name of Sen. Kelly Ayotte of New Hampshire is spelled "Yotte," along with the noose and "TREASON." "Facebook.com/ASheepNoMore" appears at the bottom of the graphic.
Matt Glazer, executive director of Progress Texas, said the action was "disturbing, disgusting, and has absolutely no place in our political discourse."
"To suggest that any American, let alone a U.S. senator, deserves to be hung for a democratically cast vote is absolutely unacceptable," he said.
The offices of Mr. Perry and Mr. Smitherman did not immediately respond to requests for comment.