Former Republican presidential hopeful Ron Paul said Monday that the shooting death of a Navy Iraq War veteran was the consequence of his life as one of the military's most celebrated snipers.
In a message sent from his certified Twitter account, the former congressman from Texas said that "Chris Kyle's death seems to confirm that 'he who lives by the sword dies by the sword.'"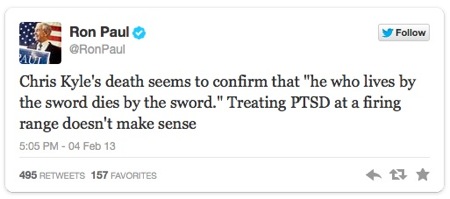 Mr. Kyle, a record-setting SEAL sniper, was fatally shot over the weekend at a Texas shooting range, and authorities have charged a fellow veteran whom Mr. Kyle and a friend were helping deal with post-traumatic stress disorder. Mr. Kyle wrote a best-selling book "American Sniper: The Autobiography of the Most Lethal Sniper in U.S. Military History," in which he wrote that he had more than 150 kills to his credit and had a bounty put on his head by Islamist insurgents.
Rep. Duncan Hunter, an Iraq war veteran, called the remarks by Mr. Paul "ignorant."
"It shows you how ignorant some people are about post-traumatic stress disorder. It's amazing to think that a former congressman, who served in the upper echelon of government and ran for president, knows so little about PTSD and would make such a comment," said the California Republican, who regularly hunts with a wounded veterans group.
"Chris Kyle was a patriot who served his nation honorably on and off the battlefield. We'll let the congressman do his own explaining," said Joe Davis, public-affairs director of the Washington office of the Veterans of Foreign Wars.
Mr. Paul's son, Republican Sen. Rand Paul of Kentucky, issued a statement to Breitbart News, in which he said, "Chris Kyle was a hero like all Americans who don the uniform to defend our country. Our prayers are with his family during this tragic time."
The quotation in the elder Mr. Paul's tweet comes from Jesus' admonition to Peter in the Garden of Gethsemane not to attack Roman soldiers who were trying to arrest him.
The rest of Mr. Paul's tweet goes on to state that "Treating PTSD at a firing range doesn't make sense," though it was not immediately clear what that had to do with the Gethsemane quote about "living by the sword," which always has been understood as an admonition about violence, not medical treatment.
Mr. Paul, a longtime GOP congressman from Texas who retired earlier this year, on Monday night posted a statement on his Facebook page on the growing controversy over his tweet.
"As a veteran, I certainly recognize that this weekend's violence and killing of Chris Kyle were a tragic and sad event. My condolences and prayers go out to Mr. Kyle's family. Unconstitutional and unnecessary wars have endless unintended consequences. A policy of nonviolence, as Christ preached, would have prevented this and similar tragedies. -REP"
According to the Department of Veterans Affairs, one common way to treat post-traumatic stress disorder is "prolonged exposure therapy," which involves reliving past traumatic events.
"This therapy works by helping you approach trauma-related thoughts, feelings, and situations that you have been avoiding due to the distress they cause. Repeated exposure to these thoughts, feelings, and situations helps reduce the power they have to cause distress," the VA website notes, according to a report in The Atlantic magazine.
An email to Mr. Paul at his Campaign for Liberty and tweets to campaign spokeswoman Megan Stiles were not immediately returned.
The man suspected of shooting Mr. Kyle, Eddie Ray Routh, was reportedly on suicide watch Monday in a Texas jail.