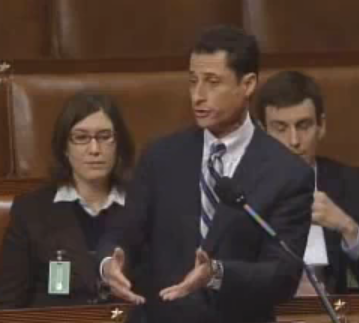 Surprisingly, Rep. Anthony Weiner, New York Democrat, seems scarily elusive this campaign season. Mr. Weiner has been representing New York's 9th Congressional District since 1999, and one wonders if frustration with liberal Democrats in Congress may have reached Mr. Weiner's neck of the woods this time around. Rep. Weiner could very well be facing a tougher re-election cycle against GOP challenger Bob Turner.
"So where is he? I haven't see him," asked longtime 9th Congressional District resident from Flushing, Queens Johnathan Halpert of his Congressman on Tuesday, when I asked about his thoughts on Representative Weiner.
Dr. Halpert previously voted for Mr. Weiner in past elections, but the Congressman has disappointed him this time around. "I'm very much into this election. I haven't seen one synagogue he's shown up in." Dr. Haplert is retired after heading up a non-profit corporation residential program for the handicap. He has lived in the district since 1966.
The Turner campaign later told me that Mr. Weiner couldn't go around publicly within the district without being chided.
"At the Forest Hills Fair, it looked like he had the weight of the world on his shoulders. A guy had a sign behind him. People were yelling in his face. He was trying to keep his composure," said a Turner campaign staffer. "He was trying to smile, but he was clearly rattled, and I think he faces that in most areas. He's facing that in his own home area of Forest Hills, where there are more liberals than anywhere else."
"I think he's concerned, and I base it on the fact that he hasn't been out [in the community] campaigning. That may sound counter-intuitive, because he'd be concerned that he's not running around, but I think he's not out there campaigning, because I don't think he wants people to know he's out there," Dr. Halpert said. "I think if he wasn't afraid, he'd be out there all the time. He loves the limelight."
A June poll, referenced in the local New York City press, by McLaughlin and Associates revealed the following about Rep. Weiner:
By party, 93% of Republicans and 73% of independents gave the Democrats a negative job rating. 70% of Democrats gave their own party a negative job rating.

Anthony Weiner received a 47% positive job rating and a 36% negative job rating. The positive rating is below the accepted benchmark a safe incumbent should reach on his job approval rating.

Voters gave Anthony Weiner negative job ratings on key issues - 35% positive to 38% negative on "working to make healthcare more affordable"; 31% positive to 38% negative on "helping to cut wasteful government spending."

Ideologically, the plurality of voters, 40%, said Weiner is a liberal. Important to note, the plurality of voters, 38%, identified themselves as conservative. Only 23% of voters said they are liberal.
Mclaughlin called the Weiner v. Turner race a "sleeper contest," reported the New York Daily News.
Realizing how vulnerable Mr. Weiner was back in June, the Turner campaign began to get the word out on Mr. Turner himself, who has already been endorsed by both former New York Mayor Rudy Giuliani and New York Republican Congressman Pete King.
I spoke with Mr. Turner on Tuesday who said, "Our polls indicate that Mr. Weiner is behind on every issue—healthcare, jobs, the economy, the deficit, even support for Israel. So, we've got a lot to work with, and our job is to put those negatives and attach them to him…and his responsibility for them over his last 12 years in this Congress."
Mr. Weiner's campaign website, as of first posting this piece, leaves much to be desired in terms of contact information, upcoming events, and press releases. At least Rep. Barney Frank, Massachusetts Democrat, who is facing a tougher re-election this year, lists his events on his website and shows his constituents where he will be next. Mr. Frank is making himself more accessible to the voters. However, his Democratic colleague from New York is not.
While many believe Mr. Weiner's re-election is a sure thing, if that is the case, why is his campaign strategy being played as an incumbent whose seat is at risk?
In late September, Politico reported that former President Bill Clinton stepped up to the plate for Mr. Weiner and wrote a campaign e-mail for the New York Congressman asking for donations for the Weiner campaign. Mr. Clinton described Mr. Weiner as "laser focused" and as someone he remembered showing "leadership on historic health care reform — and now no one can be denied the care they need. But standing up to special interests makes Anthony a huge target for their big-money political attack machines."
Why is the Weiner campaign so concerned during the last few weeks of the mid-term campaign about "right-wing attack machines" now? Does he know something is amiss with his polling numbers that the public doesn't?
Furthermore, why did his campaign haul out such a high profile Democrat like Bill Clinton to write a simple contribution letter for a race many have thought the Congressman should win easily?
Interestingly, while Senator Chuck Schumer, New York Democrat, is likely to win his own re-election bid, like most incumbents in these comfortable circumstances, he is not paying much attention to his GOP challenger.
On the other hand Mr. Schumer's protégé, Mr. Weiner, is reacting rather differently to his own Republican challenger, Mr. Turner. Among other things, The Congressman called Mr. Turner a "right-wing extremist" and went after Mr. Turner for signing the Americans for Tax Reform Taxpayer's Pledge.
No politician who was expected to breeze back into office puts this much effort into a re-election campaign, if there was something to be concerned about on his end; however, since Mr. Weiner is not making his public appearances well known around his own district these days, the New York Congressman will concentrate more on hiding out and smearing a formidable challenger he is afraid to face. Mr. Weiner's spokesman did not return my call for comment on this piece.
*Update October 9: No firm time and date has been set for a debate, as the Weiner camp has not responded to "set a firm date and time," according to the Turner camp.
*Update October 8: Rep. Barney Frank website information and NYD piece added.
*Update October 8: Mr. Turner announced on the Mark Levin radio show on Thursday evening that Rep. Weiner agreed to debate Mr. Turner on October 21st. It will be a community forum format.