In a surprise moment on MSNBC's Countdown, Keith Olbermann said good-bye to his MSNBC audience on Friday evening for the final time, and he could not blame Sarah Palin, Bill O'Reilly, Rush Limbaugh, nor George W. Bush.
Interestingly, the liberal TV talker's announcement came on the one-year anniversary after the left-wing radio network Air America disappeared and immediately following the Comcast-NBC merger.
Additionally, Mr. Olbermann thanked all the people at MSNBC he was appreciative of for their support. MSNBC Hardball host Chris Matthews was not part of that list:
"So let me thank my gifted staff here and just a few of the many people who fought with me and for me: Eric Sorenson, Phil Alongi, Neal Shapiro, Michael Weisman, the late David Bloom, John Palmer, Alana Russo, Monica Novotny, my dear friends Rachel Maddow and Bob Costas and my greatest protector and most indefatigable cheerleader, the late Tim Russert."
The Olbermann – Matthews friction is not new and Mr. Matthews showed his disdain towards Mr. Olbermann on the air during a 2008 interview with then House Majority Leader Steny Hoyer, Maryland Democrat. In February of 2008, Noel Shepperd at Newsbusters posted a piece that showed Mr. Olbermann humiliating Mr. Matthews on the air.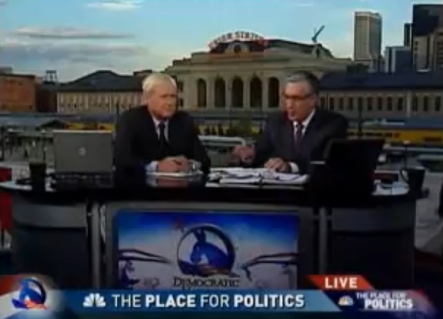 Obviously, relations between the two anchormen could not have possibly improved when it was reported by Gawker in March of 2009 that Mr. Matthews ended up getting less of a salary than Mr. Olbermann:
'Barely four months ago, MSNBC nearly doubled Keith Olbemann's annual salary to $7.5 million. Now the network says Chris Matthews has re-upped without much of a raise. Ouch.

The NBC cable network refused to share salary details with the New York Times, save for the most humiliating one: Matthews is still making more or less $5 million per year. In October that would have been 25 percent more than Olbermann made. Now it's roughly 33 percent less.

One executive involved in the negotiations said, "Whether he took a slight cut or got a slight raise, it's nobody's business."'
Questions about Mr. Olbermann's next move remain a mystery but one thing seems likely. Chris Matthews may not like the idea of being slighted again by his now former MSNBC colleague, but the Hardball host can now brag he played a better game of office politics than Mr. Olbermann did with MSNBC executives.