One day before the shooting at the Washington D.C. based Family Research Council's offices, that resulted in their security guard being shot in the arm, the Human Rights Campaign posted on their blog, their objection to Republican vice presidential nominee Paul Ryan for his scheduled speaking engagement before FRC's annual Values Voter Summit in September.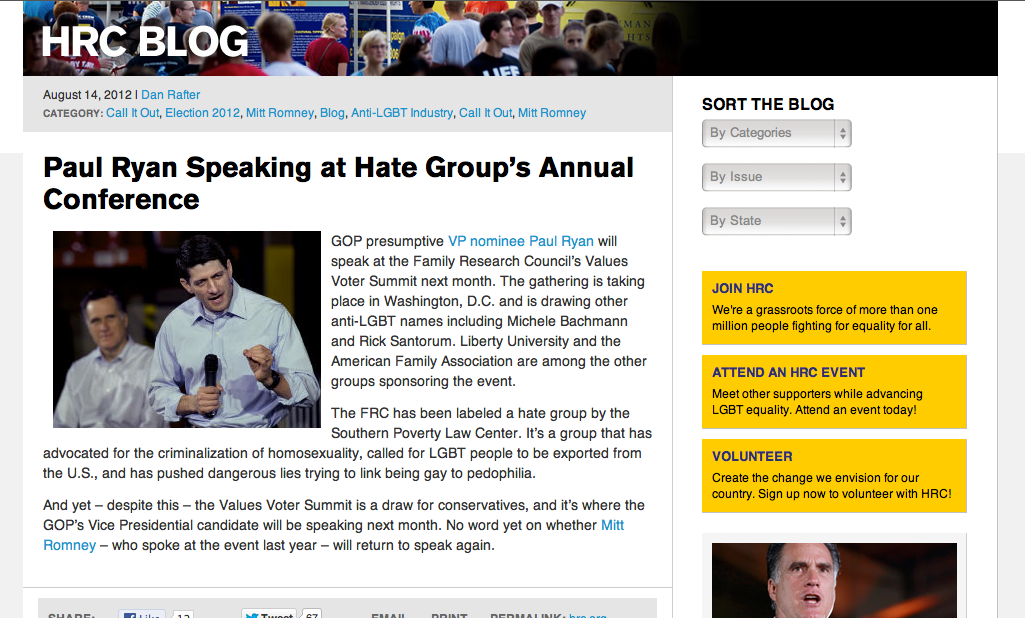 The leftist Southern Poverty Law Center has designated FRC as a "hate group" for FRC's support of traditional marriage. SPLC wrote on their website in 2010:
The Family Research Council, which was recently designated as a hate group by the SPLC because of its dissemination of false and demonizing propaganda about gays and lesbians, has launched a campaign against the SPLC that includes an advertisement in two Washington newspapers.
House Speaker John Boehner, Ohio Republican, tweeted on Wednesday, "Prayers are w/injured guard, his family, & everyone at @FRCdc. DC police chief says 'security officer here is a hero' – couldn't agree more." Fox News reported earlier on Wednesday:
The guard, Leo Johnson, was shot in the arm and was conscious after the shooting and in stable condition. Corkins was being questioned by the FBI, sources said. Sources said he lives in Herndon, Va.The suspect "made statements regarding their policies, and then opened fire with a gun striking a security guard," a source told Fox News.Sources also said the gunman may have been carrying a bag from Chick-fil-A, the embattled fast-food restaurant whose president came under fire from gay activists after he said he did not agree with same-sex marriage.Sources told Fox News that after guard took away his gun, the suspect said, "Don't shoot me, it was not about you, it was what this place stands for."
The gunman has been ID'ed as 28 year old Floyd Lee Corkins II. Mr. Corkins was reportedly a volunteer at The DC Center for the LGBT Community.
The National Organization for Marriage released a statement condemning the attack and the branding of pro family groups as "hate" organizations:
"Today's attack is the clearest sign we've seen that labeling pro-marriage groups as 'hateful' must end," said Brian Brown, President of NOM. "The Southern Poverty Law Center has labeled the Family Research Council a 'hate group' for its pro-marriage views, and less than a day ago the Human Rights Campaign issued a statement calling FRC a 'hate group' – they even specified that FRC hosts events in Washington, DC, where today's attack took place."

"NOM has always condemned all violence and vilification connected to our ongoing national debate about the meaning and definition of marriage," Brown stated. "For too long national gay rights groups have intentionally marginalized and ostracized pro-marriage groups and individuals by labeling them as 'hateful' and 'bigoted' — such harmful and dangerous labels deserve no place in our civil society and NOM renews its call today for gay rights groups and the Southern Poverty Law Center to withdraw such incendiary rhetoric from a debate that involves millions of good Americans," added Brown.
LGBT organizations also sent out a joint statement regarding the shooting at FRC on Wednesday:
"We were saddened to hear news of the shooting this morning at the offices of the Family Research Council. Our hearts go out to the shooting victim, his family, and his co-workers.
The motivation and circumstances behind today's tragedy are still unknown, but regardless of what emerges as the reason for this shooting, we utterly reject and condemn such violence. We wish for a swift and complete recovery for the victim of this terrible incident."