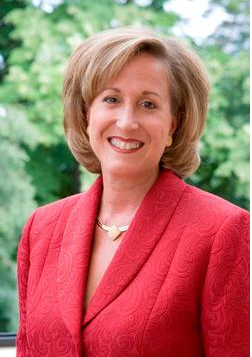 Could Missouri Republican Ann Wagner be the answer that GOP'ers are looking for? Although the first deadline passed for embattled Congressman Todd Akin, Missouri Republican, to withdraw from his U.S. Senate race against Sen. Claire McCaskill, a Democrat, without a court order and a fine, grassroots and Washington D.C. establishment conservatives I have spoken to are beginning to rally behind Ann Wagner.
She is currently running for Mr. Akin's 2nd Congressional district seat and is said to have supporters asking her to run against McCaskill should Akin leave the Missouri Senate race before the next September deadline passes. According to her bio page on her campaign website for the 2nd district:
At an early age, Ann started working in the family business, a retail carpet store called Carpetime in Manchester. Working beside her parents she learned the value of a dollar, a strong work ethic, honesty, integrity, and that government ought not be in the way and on the backs of hard-working Americans trying to make a living.

Ann then took her firsthand experience to the University of Missouri-Columbia and received her BSBA from the Business School with an emphasis in Logistics. After college, Ann went to work in the private sector and held management positions at Hallmark Cards in Kansas City and Ralston Purina in St. Louis.

Ann's most important jobs, however, have always been as a wife and mother. Ann and Ray have three children: Raymond, a recent West Point graduate stationed at Fort Campbell with the 101st Airborne; Stephen, a senior at Washington University in St. Louis; and Mary Ruth, a high school senior at Ursuline Academy.

Ann Wagner's public service began at the grassroots level. She served for nine years as a local committeewoman in Lafayette Township and went on to Chair the Missouri Republican Party delivering historic Republican gains. She also served as Co-Chairman of the Republican National Committee during the first term of President George W. Bush.

In 2005, following nomination by President Bush and confirmation by the U.S. Senate, Ann was sworn in as the 19th U.S. Ambassador to Luxembourg by Secretary of State Condoleezza Rice. She served as U.S. Ambassador for four years before returning to her home in Ballwin, Missouri.
As of right now Ann Wagner won a landslide primary election to represent Missouri Congressional District 2 , a district that Rep. Todd Akin has represented for 6 terms . CD 2 is a Republican heavy district , and Wagner is a virtual shoe-in as well as a power house in Missouri politics.
With a conservative support network around the state, the very articulate Wagner is best suited to take on Sen. McCaskill. The true test for Mrs. Wagner will be if Missouri and the nation call, will she take on the risk and Claire McCaskill? If Wagner's track record of taking on any challenge with a smile gives any indication, McCaskill might have numerous sleepless nights ahead wishing she had not gone after Todd Akin too early.