Consumer appetites for high-tech gadgets and electronics continue to fuel gift-giving, with an average of $232 per person being spent on electronics this holiday season, according to the Consumer Electronics Association.
Here's a look at some of the coolest items for the technology-loving family member.
iPad
What is it? A high-tech tablet computer available with 16, 32 or 64 gigabytes worth of storage.
Price: $499 to $829
Gift group: Serious mobile multitaskers
Santa's scoop: Apple's magical, half-inch-thick, 1.5-pound device quickly has become a required assistant for the busy business person thanks to its Wi-Fi and 3G network connectivity, along with its portable e-mail, note-taking, Web-surfing and presentation-building functionality. I'd also like to throw it into the gift-giving ring as a dazzling mobile entertainment hub, thanks to its 9.7-inch, high-resolution, responsive multi-touch LED screen and 10 hours of battery life.
For example, start with the device's access to an avalanche of cheap games, such as Angry Birds ($4.99), Medieval HD ($2.99) or Madden NFL 11 HD ($12.99). How about reading with zero eye strain hundreds of downloadable books (free iBooks app required) or delve into an interactive tome such as "Andrew Zuckerman: Music" ($4.99) or "Dracula: The Official Stoker Family Edition" ($2.99). Of course, watching movies and television shows also has never been more convenient (an average of $2.99 to rent and even compatible with Netflix). The iPad's cost might make it a tough gift call compared with the computer and gaming choices on the market — until the buyer tries it and can't put down the device.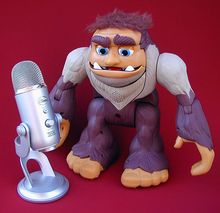 MovieMate 85HD
What is it? An all-in-one projection system
Price: $899.99
Gift group: Cinemaholics who like to view their movies extra-large
Santa's scoop: Epson continues to evolve its projection line with this amazingly compact 720p-resolution (1280x800) projector packed with a CD/DVD player and two 10-watt speakers handling 5.1 Dolby Digital DTS. Owners can display a 120-inch image (12 times larger than a 40-inch widescreen TV) up to 12 feet away in 16:9 glory using a three-chip LCD imaging system and a lamp providing a 2,500 color and white output (with a life of 5,000 hours). The elves can't gush enough about its lightweight, portable design (slightly over 12 inches wide, 9 inches deep and 5 inches tall and only 9 pounds) and the handle and soft case that provide easy mobility. A generous supply of easily accessible outputs include a coaxial digital audio, USB port, VGA port, component video, and, best of all, HDMI to attach the latest gaming systems or a Blu-ray player. The unit even includes a microphone input for slide-show narration and potential karaoke action. The 85HD comes with an AC cord and remote.
Yeti
What is it? The ultimate USB microphone for professional recording
Price: $149.99
Gift group: Serious podcasters in the family
Santa's scoop: With a retro design hearkening back to the 1950s when broadcasters used heavy-duty equipment, Blue Microphone's Yeti makes recording interviews and voice-overs and capturing musical instruments and singers to a computer a painless and easy desktop experience. Standing almost 12 inches tall and weighted like a brick, the device is the world's first to offer THX-certified sound capture using tri-capsule technology with a choice of four recording patterns — stereo, cardioid, omnidirectional and bidirectional. And it could not be easier to set up. Just use the included cable to plug it into a computer's USB port, get your preferred software (GarageBand, Audacity, etc.) to detect the microphone and start making recording history. The Yeti includes a master output control, a mute button, a headphone jack (with volume control) and a gain knob.
Wi-Fi Internet Radio
What is it? A stand-alone digital radio accessing more than 17,000 stations and 50,000 programs
Price: $169.99
Gift group: Pandora-loving music fans
Santa's scoop: Grace has built a compact (toaster-sized), lightweight solution to easily interact with the Pandora Radio network (register for 40 free hours of music per month or buy a premium plan for unlimited listening) by simply tapping into its wireless (Wi-Fi) 802.11b/g/n network. Owners use the device's LED display and faceplate buttons to skip songs, access their customized stations and add "thumbs up" or "thumbs down" recommendations. Besides Pandora and access to any online station, including iheartradio, Sirius, Live365 and MP3tunes, owners can manage their stations through the Grace Digital website (http://grace.reciva.com/), stream music from their computers, use five alarm and sleep-timer settings and create favorite station folders. A 4-inch rear-ported speaker (8 watts) works well for background inspiration, but use the included headphone-to-RCA cord to tap into a home stereo system for parties. The radio comes with an AC power adapter and full-function remote. It even can be controlled via an iPhone or iPod Touch (free app required).
Minikit Slim
What is it? A hands-free solution to driving while yapping on a cell phone
Price: $65 to $100
Gift group: Callers who hate using earbuds to stay in constant communication while traveling the highways
Santa's scoop: This lightweight Bluetooth device from Parrot conveniently attaches and hangs below a car visor for use with up to five phones. Once a cell phone, smart phone or iPhone is synced with the Minikit's flat-panel speaker system, it automatically ingests the address book to easily allow users to call associates either through a trio of buttons or through its voice-activated system. It can sync up to 1,000 numbers per phone (2,500 total) and offers 10 hours of talk time before needing a recharge, and its large rotary button accesses options such as volume and phone book. In the field, the Minikit quickly recognized a wide range of voice timbres, easily connected numbers with commands, such as "call Lisa, mobile," and provided sound amplification more than adequate for days stuck in noisy traffic. It includes a USB cable and 12-volt car lighter-socket charger.
FinePix Real 3D W3
What is it? A digital camera that shoots three-dimensional video and still images
Price: $499.99
Gift group: Amateur and professional photographers ready to dabble in the latest visual technology
Santa's scoop: Fuji provides an eye-popping 3-D experience via a high-definition camera (1280x720 at 24 frames per second) sporting two 10-megapixel sensors and two 3x zoom lenses. Features include an advanced flash system to help stop washout, 3-D/2-D button switch, 13 scene position settings, editing software and a 3.5-inch color LCD autostereoscopic screen. The caveat to this excellent device is the average consumer is not yet ready to cheaply embrace 3-D technology in their homes. To actually view the 3-D footage in all its glory, owners will need a compatible 3-D monitor (with those goofy glasses and mini-HDMI to HDMI cable). Still images can be seen via FujiFilm 3-D prints (www.seehere.com), a 3D Digital Viewer ($499, with no glasses required) or on the 3.5-inch in-camera monitor. For those just wanting to shoot 2-D images, the two lenses can work independently of each other to offer separate perspectives (say a wide angle and tight zoom) on any shot.