KABUL, Afghanistan | When NATO troops train Afghan police, their most intensive class is not marksmanship, checkpoint procedure or riot control. It's reading and writing.
Only 11 percent of enlisted personnel and 35 percent of noncommissioned officers in Afghanistan's army and police are literate, according to NATO trainers. That is undermining the troops' effectiveness as NATO works to build up Afghan forces at a time when NATO leaders meeting in Lisbon, Portugal, over the weekend confirmed a plan to hand over security powers to them by 2014.
There have been numerous reports of trouble for illiterate Afghan security forces: an army unit calling an airstrike down on itself in July because the soldiers couldn't read a map; officers who couldn't read the serial numbers on their weapons or tell what size ammunition they should use; a unit that would set up a checkpoint but could not read the ID cards of drivers.
Police often can't write down witness statements or look up a law. In some cases, police chiefs were stealing their subordinates' salaries, and illiterate recruits could not detect the theft.
"Illiteracy is like being blind," said Col. Mohammad Hashim, the Afghan training chief of the Central Training Center for police. "None of them could solve a problem. None of them could apply the law."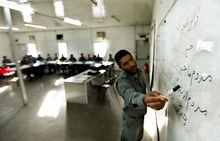 The Lisbon summit agreed to begin handing off security responsibility to Afghan security forces in early 2011, with a full transition targeted for the end of 2014. But the Afghan forces have a long way to go before then.
Creating an efficient and reliable security force is a crucial to NATO's effort to undercut the Taliban, on the battlefield and in the eyes of the Afghan people, who do not trust the justice system. The Taliban have long used Afghanistan's corruption and lawlessness as a recruiting tool, promising stability and the rule of law through the use of strict Islamic justice.
Before NATO took over the training mission for the security forces a year ago, many Afghan police recruits were simply issued uniforms and guns and sent out to fight. They had a casualty rate three times the Afghan army's and an annual attrition rate of 24 percent, and were widely criticized for incompetence and corruption. The police force has grown from 95,000 to 120,500 in the past 10 months.
NATO hopes the new training courses, which spend more time on teaching recruits how to read than any other skill, will slowly help turn things around.
About 74 percent of Afghanistan's 30 million people are illiterate — but the percentage is higher in the security forces' lower ranks because few educated Afghans sign up. Those who do head into the officer corps, where the literacy is far higher, at 93 percent.
The Taliban and other insurgents draw from the same pool for their recruits, but literacy is not as necessary for their guerrilla-style method of warfare — their fighters don't have to do much reading and writing of reports or checking of IDs.
But for the Afghan security forces, "literacy is a matter of life and death," said Army Brig. Gen. David Neasmith, who heads the army training.
Army Lt. Gen. William Caldwell, the top commander of the training for army and police, hadn't considered literacy training as part of the mission at first, but "the more he dug into it, [he found] it is fundamental," Gen. Neasmith said.
Now the six-week, 313-hour basic training for the police devotes 48 hours to literacy, more than the 44 hours spent practicing marksmanship.
The Interior Ministry has increased the time spent teaching reading and writing to 176 hours for recruits in the more exclusive Afghan National Civil Order Police, known as ANCOP, a force tasked with helping hold territory gained by NATO and Afghan forces.