A year after Gov. Bob McDonnell won passage of the largest economic-development initiative in Virginia history, the state has given 24 mid-to-large companies $9.74 million in grants to create 3,189 jobs.
But officials have questioned whether some of the recipient companies would have opened or expanded in Virginia without taxpayer-funded handouts.
Mr. McDonnell on Thursday announced the latest grants: $200,000 for the CFA Group, a professional association for investors, to employ 45 workers at a new facility in Charlottesville, and $1 million for a nonprofit commuting center to create 15 jobs in Danville.
A list of the incentive grants obtained by the Washington Times shows that since July 1, the beginning of the state's fiscal year, nearly one-fifth of the grant money went to Microsoft Corp., which was given $2.1 million to build a data center in Mecklenburg and employ 50 people. Most of the other grants were aimed at promoting manufacturing from auto-transmission parts to surgical products to wood pellets used as a clean-fuel source.
A handful of companies in the prosperous Northern Virginia area received grants. Manassas-based Micron Technology took $1.5 million to expand production of memory chips, Winchester-based O'Sullivan Films took $800,000, and GeoEye, a satellite-imagery company in Herndon, was given $84,000.
But most grants were awarded to companies in less-populated areas of the state suffering from higher unemployment rates - places such as Martinsville, Sussex and Pulaski.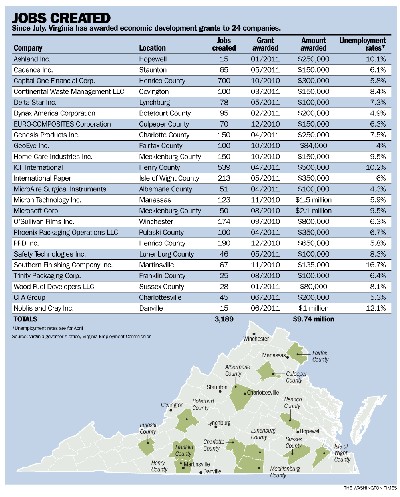 Each job comes at a price. Divide $9.74 million by 3,189 jobs, and the state paid $3,054 per job created. And that doesn't include other incentives not tracked by the Virginia Economic Development Partnership, said Rob McClintock, research director for the state agency.
"We think it's important to have these incentives, only to the extent that it makes sense," Mr. McClintock said. "We will never probably have the incentive war chest other states have. We believe it's a balance and to keep that balance in perspective."
Mr. McDonnell is trying to make job creation one of the hallmarks of his term. Aside from balancing a $4 billion budget shortfall during his first year in office, his most touted accomplishment was convincing the General Assembly to approve a $57 million package of economic incentives.
This year, legislators approved $36 million of an additional $55 million Mr. McDonnell requested to try to lure more business to Virginia. The package will fund more than a dozen different types of development programs, grants and tax credits, including a new credit for research and development.
Unlike other types of incentives, such as tax credits and forgivable loans, the grants are essentially free money for businesses that promise to meet job-creation and investment benchmarks.
While Mr. McDonnell speaks frequently of the merits of offering economic incentives, his efforts have not gone without criticism.
At the prompting of Sen. Janet Howell, the General Assembly during the last legislative session voted to mandate a study on their effectiveness by the Joint Legislative Audit and Review Commission.
Mrs. Howell, Fairfax Democrat, told The Times one of her concerns was that the state seemed to be "paying for some jobs tens of thousands of dollars in incentives."
"What I'm striving to accomplish is to make sure we're spending money wisely," she said. "I have no problem at all with investing in jobs and job creation - I strongly support it - but I want to make certain what we do is productive and doesn't have unanticipated negative consequences."