The President's Commission on Intercollegiate Athletics recommended that the University of Maryland cut eight of the school's 27 varsity sports, effective July 1, as part of a series of recommendations released Monday night.
A source said last week that the Terrapins' women's water polo and men's and women's swimming and diving teams were informed they were expected to be dropped. The commission included those three teams, as well as acrobatics and tumbling (formerly competitive cheerleading), men's tennis and the men's cross-country and indoor and outdoor track and field programs.
The commission recommended that all scholarships to current athletes in those sports be honored through graduation and for coaches affected by any potential cuts have their contracts upheld.
The commission's other recommendations included revamping outreach and fundraising activities, reinvesting resources for remaining teams to bolster things like academic support and fitness and reformatting the department's annual financial reports so they are stated more clearly.
"By putting into place a balanced and sustainable fiscal and programmatic plan, Maryland Athletics will be able to support the 529 student athletes on these teams at a proper level to ensure their success in competition and in their studies," the commission wrote.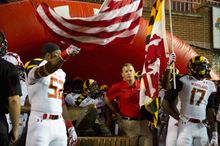 In a letter Monday afternoon to members of the Terrapin Club, the department's fundraising arm, athletic director Kevin Anderson said no final decisions have been made about the long-term fate of any team.
"I want to make one thing perfectly clear, I do not wish to eliminate any athletic program, not a single one," Mr. Anderson wrote. "I have devoted my professional life to building athletic programs and to enhancing the student athlete experience.
"While I would not wish these circumstances on anyone, I was brought to Maryland to lead and I am prepared to make the hard decisions necessary to make Maryland Athletics a model department with respect to academic, competitive and financial success and stability."
Still, the anticipated paring of nearly a third of the school's teams is hardly a surprise. The school's athletic department suffered financial problems for several years, and campus President Wallace D. Loh acknowledged in July that the department's monetary reserves were exhausted and he authorized the 17-member commission to examine ways to increase revenue and decrease costs.
Increasing revenue, especially in the midst of an abysmal 2-8 football season and a men's basketball season projected to be perhaps the most trying in nearly two decades, isn't an easy measure. The commission noted that net revenue in both sports has decreased considerably in recent years, with football losing more than $64,000 in fiscal 2011.
In addition, Maryland's fundraising has shrunk almost 40 percent in just three years. The department's total fundraising was nearly $15.3 million in fiscal 2008 and barely $9.1 million in fiscal 2011.
Cutting costs — and sports — then is a major part of overhauling a department that offers more sports than any Atlantic Coast Conference school other than Boston College (31) and North Carolina (28).
Mr. Anderson is expected to provide a response to the report by Dec. 1. The university's athletic council will issue a response by Dec. 15, with Mr. Loh scheduled to make a final decision on the fates of the sports by the end of the year.
The recommendations clearly were made with the implications of Title IX, a 1972 law that assures equality in education. Five of the eight teams suggested for elimination are men's programs — though baseball and wrestling were not included in the suggestions.
The programs vary in history, with some highly decorated and others less than a decade old.