The D.C. Council took a major step Tuesday toward reconfiguring the city's $38 million lottery contract when it voted to repeal an online gambling law once urged by its supporters as a pivotal revenue source for the city.
Shortly before a 10-2 vote to kill the gambling initiative, known as iGaming, Mayor Vincent C. Gray said in a letter to the council that he would conditionally support a rebid of the entire contract if the council eventually revives iGaming.
Jack Evans, Ward 2 Democrat, who oversees the lottery as chairman of the council's Committee on Finance and Revenue, said last week that more scrutiny of the lottery contract would be forthcoming after his committee advanced the iGaming repeal. His comments on the prospect of rebidding the lottery contract were tepid after Tuesday's vote.
"I'm not doing anything right now, but I'd always be open to it, yes," he said.
In his letter to the council, in which he reiterated his support for a repeal of iGaming, Mr. Gray said his position on the lottery contract itself was predicated on the passage of an iGaming law "in a much more publicly transparent manner" than the way it became law as part of a budget bill in December 2010.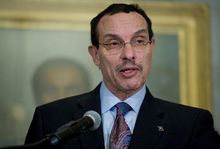 "I also would support rebid of the existing lottery contract, with more transparent provisions that are subject to stricter adherence to both procurement law and best practices, and a fairer revenue-sharing arrangement with the District for any iGaming component," he said.
Council member Tommy Wells, Ward 6 Democrat, who co-sponsored the repeal bill, said after Tuesday's legislative session, "I certainly have a lot of questions about the process of selecting the [local] partner in the lottery contract, and that's a conversation I will be having with Mr. Evans."
Recent concerns about iGaming stem from a report by D.C. Inspector General Charles J. Willoughby, who determined that the city's lottery contract with the Greek company Intralot "materially changed" to include the online games shortly after its approval in December 2009. Council members in favor of the repeal said they had no way of knowing that "nontraditional" games in the contract could amount to online gambling.
The inspector general issued his report in response to a written request for investigation by two officials at the time, D.C. Attorney General Peter J. Nickles and Chief Procurement Officer David P. Gragan, but not until after Mr. Evans asked Mr. Willoughby to act on the request.
The request for investigation was prompted by reports in The Washington Times that found irregularities in the lottery approval process and a lack of vetting of Intralot's local partner, Maryland businessman Emmanuel S. Bailey. Mr. Bailey was found by the inspector general to have misrepresented his firm's business activities during its bid for a stake in the lottery contract.
A spokeswoman for Mr. Gray said Tuesday that his perspective was shaped by the inspector general's report and public opinion on the online gambling program.
"It's a combination," she said.
The council in December 2009 approved the lottery contract between Intralot, the sole awardee in a competitive bid process, and Veteran Services Corp. (VSC), a firm controlled by Mr. Bailey that was appended to the deal after the award. Intralot and VSC later executed a separate agreement that gave Mr. Bailey a 51 percent interest in a subcontracting entity consisting of VSC and Intralot.
Intralot said its company and VSC — which is on the hook for half the startup expenditures — spent $22 million launching the overall lottery system. Among those funds, it spent between $5 million and $7 million on the iGaming portion that will not happen — at least not for now.
VSC borrowed its share of startup expenses from Intralot.