Looking to deliver on his 2008 campaign promise to extricate the U.S. from two wars, President Obama on Tuesday night mapped out an agreement for an American withdrawal from Afghanistan.
In a prime-time address from Bagram Air Base in Afghanistan, Mr. Obama called for an end to an era of war.
"My fellow Americans, we have traveled through more than a decade under the dark cloud of war," the president said. "Yet here, in the pre-dawn darkness of Afghanistan, we can see the light of a new day on the horizon. The Iraq War is over. The number of our troops in harm's way has been cut in half, and more will be coming home soon. We have a clear path to fulfill our mission in Afghanistan, while delivering justice to al Qaeda.
"This time of war began in Afghanistan, and this is where it will end," Mr. Obama said.
The president thanked the troops for their service, sacrifice and resilience and said an American renewal is within reach because of them.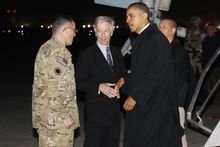 "Time and again, they have answered the call to serve in distant and dangerous places," he said. "In an age when so many institutions have come up short, these Americans stood tall. They met their responsibilities to one another and the flag they serve under. I just met with some of them and told them that, as commander in chief, I could not be prouder. In their faces, we see what is best in ourselves and our country."
Mr. Obama also had strong words for the Taliban, which in recent weeks dropped out of negotiations with the U.S. for a transition agreement.
"Many members of the Taliban — from foot soldiers to leaders — have indicated an interest in reconciliation," he said. "A path to peace is now set before them. Those who refuse to walk it will face strong Afghan security forces, backed by the United States and our allies."
Mr. Obama arrived in Afghanistan under cover of darkness Tuesday on the anniversary of the death of Osama bin Laden, part of a surprise, around-the-globe trip that added drama to what was already a politicized mission.
After midnight in Kabul, Mr. Obama and Afghan President Hamid Karzai signed a 10-page strategic partnership agreement cementing a U.S. support role in Afghanistan for a decade after 2014, when NATO forces are planning to end their combat mission and seriously curtail their presence in the country.
Immediately after signing the agreement, the president took time to meet with the troops and deliver a nine-minute, off-the-cuff speech to an audience of 3,200 service members who were waiting in a hangar for several hours late in the evening before being told Mr. Obama was on his way.
It was the first time Mr. Obama publicly invoked bin Laden's death since arriving in Afghanistan.
"We did not choose this war. This war came to us on 9/11," he said. "Because of the sacrifices now of a decade — a new greatest generation — not only were we able to blunt the Taliban's momentum, not only were we able to drive al Qaeda out of Afghanistan, but slowly and systematically we have been able to decimate the ranks of al Qaeda. And a year ago, we were finally able to bring Osama bin Laden to justice."
At the mention of bin Laden, the crowd responded with a rousing "hoo-ah."
The president also acknowledged the difficult struggle troops and their families still face on a daily basis.