DeAngelo Hall's teammates enthusiastically lifted him from the Cowboys Stadium turf Thursday, knowing their contribution to the Washington Redskins' winning formula was significant even before halftime.
Hall's interception of Tony Romo was Washington's second takeaway of a memorable second quarter. The Redskins turned them into two touchdowns as part of a 28-point explosion that fueled a 38-31 victory over the Dallas Cowboys.
Washington forced three turnovers in both of its victories last week, rediscovering a critical element of its early season success. Turnovers help the NFL's 28th-ranked defense compensate for the yards it surrenders, and they have proved to keep the Redskins competitive.
Proof is in the Redskins' past four games. They lost convincingly to Pittsburgh and Carolina in games in which they failed to record a takeaway. Contrast that with victories over Philadelphia and Dallas that featured a combined six turnovers on defense and 69 points on offense.
"We're starting to hone in and just pay attention to detail and get the job done," Hall said. "It was nothing schematically that we changed or we decided to do this, decided to do that. Guys are just going out there making plays. We knew at some point the defense was going to have to step up, we was going to come around and get our bearings, and what better time than now?"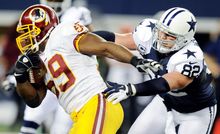 It's clear, then, how the defense can best contribute to any playoff push.
Washington enters next Monday's huge rematch with division-leading New York tied for fourth in the NFL with a plus-12 turnover differential. The Redskins haven't finished with a differential that good since 1999, when they won their most recent division championship.
In fact, creating turnovers has been such a deficiency that the Redskins haven't had a positive differential since 2005. They were minus-14 last season.
It's difficult to pinpoint reasons for the improvement because every defense emphasizes the importance of turnovers.
Part of it is being in advantageous situations, such as playing with the lead, when the opponent predictably will pass. Part of it is luck, with fumbles bouncing the right way.
Capitalizing on the opportunities, though, is paramount.
"It's just about understanding what the game is about," cornerback Josh Wilson said. "On defense, it's about getting the ball back for the offense. If you do your responsibility, you have that opportunity to complete the mission and the get the ball back, we've been able to capitalize on it."
Wilson helped ignite the Redskins' second-quarter eruption Thursday. Cowboys receiver Dez Bryant beat Wilson on a slant on third-and-2. Wilson slipped and surrendered a completion for a gain of 11 yards, but he recovered to make the tackle.
He lunged at Bryant, jarring the ball loose with his helmet. Safety DeJon Gomes, who was hustling to help Wilson with the tackle, was there to scoop the loose ball.
"You go for the tackle and the opportunity presents itself, you try to put your head on the ball or strike your arm down through and knock the ball out," he said. "If you don't get the ball but you get the tackle, hey, I'm going to come every time. If you get the ball, that's completing the mission."