Pressure is increasing for Congress to conduct its own independent investigation into last week's attacks on diplomatic posts in Egypt and Libya as lawmakers and even Libya's president dispute the Obama administration's assertion that the attacks were merely mob violence spawned by an offensive film.
An FBI team is on the ground investigating in Libya, where the attack left four Americans, including Ambassador J. Christopher Stevens dead, and the State Department has said it wants to wait until agents complete their inquiry before saying more.
But restlessness is growing on Capitol Hill, where one senator said the Obama administration explanation "defies common sense," and where senators from both parties have said the attack on a diplomatic post in Benghazi, Libya, has the marks of a terrorist attack.
"It is imperative that Congress conduct an investigation into this matter, as the two scenarios are vastly different in terms of scope and depth," said Sen. Lindsey Graham, South Carolina Republican. "A planned and coordinated assault points loudly to a security lapse, and the problems associated with such a scenario are much deeper than a violent riot over a film."
Two other Republican senators have introduced legislation that would force a report to Congress, and Sen. Bill Nelson, a Florida Democrat who is on the Senate intelligence committee, last week called for that panel to open an investigation into the Libyan attack, saying he wanted to know what role al Qaeda or its affiliates may have played.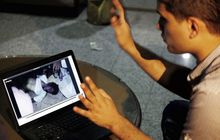 The wave of attacks comes in the wake of a low-budget film made in the U.S. that denigrates Islam's Prophet Muhammad. Protests against the film continued over the weekend and on Monday, with the leader of the militant group Hezbollah making a rare public appearance in Beirut to urge hundreds of thousands of supporters to keep protesting. Other protests occurred in Afghanistan, Pakistan and Indonesia.
The calls for an investigation come in the heat of an election year, and Republican presidential nominee Mitt Romney has accused President Obama of mishandling the situation — even as Mr. Obama, fellow Democrats and some Republicans said Mr. Romney's criticism was unseemly and not based in truth.
Stevens is the first American ambassador to be killed since 1979.
On Monday, a video surfaced of him being dragged from the burning remains of the diplomatic compound in Benghazi. Fahd al-Bakoush, a freelance videographer who shot the video, said Stevens was breathing and his eyelids flickered.
"He was alive," he said. "No doubt. His face was blackened and he was like a paralyzed person."
Stevens was pronounced dead after attempts to revive him at a hospital were unsuccessful.
State Department spokeswoman Victoria Nuland implored news organizations to show restraint with the video.
This weekend Susan Rice, the U.S. ambassador to the U.N., took to the political talk shows to say the attacks were spontaneous reaction to the film, not a premeditated response to U.S. foreign policy.
But Libyan President Mohamed Yousef El-Magariaf contradicted her, telling CBS' "Face the Nation" program that the way the attack in Benghazi was carried out "leaves us with no doubt that this was preplanned."
He also suggested that al Qaeda may have been involved.