AMSTERDAM — I've been a land-based traveler for most of my life. Motor coaches and cars have helped me explore everything from Italy's Tuscany region to Ireland's Rings of Kerry. But recently I discovered a love for river cruising.
After returning from a cruise on the legendary Rhine, I'm happily considering trips to other iconic waterways, such as the Danube, for next year. Sure, there were a few wrinkles, but they didn't take away from what I found was a charming, intimate experience — with not only the river, but also the people on the ship.
Whether from the deck or the sliding glass door in my cabin, there was always something to see, from steep vineyard hills and medieval castles to industrial plants. I also got to know the eclectic group of 130 passengers on the ship, mostly baby boomers. They included a law firm partner, a teacher, a physics professor on a honeymoon and a priest.
The small scale of river ships — which typically carry no more than a couple hundred passengers — is a large part of their appeal, in contrast to ocean-going megaships that carry thousands. On a river ship, you don't need a GPS device to figure out where the lobby or the dining room is.
The idea for the trip started with my globe-trotting mother, who'd taken a trip on a barge on the Seine in the 1990s and had always raved about it. So for $3,100 (per person, double occupancy, excluding airfare), my mother, my sister, a friend and I booked an eight-day trip with Avalon Waterways on the Rhine, starting in Basel, Switzerland, and ending in Amsterdam, with stops that included Strasbourg, France, and Heidelberg and Cologne, Germany. Typical of most river cruises, the price covered meals, wine with dinner and most shore excursions.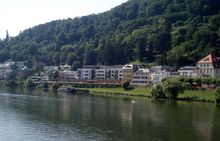 While river cruises carry just a fraction of the number of passengers that go on mainstream cruises, the industry has been exploding. The number of people taking river cruises has increased 57 percent since 2008, according to the Cruise Lines International Association. That compares with 23 percent growth for mainstream cruises during the same time frame. European river cruises are expected to carry about 400,000 people next year, according to Patrick Clark, managing director of Avalon Waterways, among the world's five largest river cruise operators.
New river boats have more amenities than in the past. The vessels must be narrow enough to fit through locks and low enough to pass under bridges that predate large cruise ships, so the cabins traditionally are smaller than on ocean-going ships, with less room for large recreational areas. But river cruise operators are finding ways to add features such as small pools, and they're upgrading in other ways, too, improving menus and decor.
Still, ahead of my trip, I worried I would get a narrow sense of the region — after all, the itinerary is limited to destinations with river ports and what you can see during a few hours on a port call. I also thought I might get bored on a vessel that lacked the comforts of a big ship. In fact, the fitness room turned out to be the size of a large closet, and there was no swimming pool, just a whirlpool. And while the three-level Avalon Felicity was comfortable, it wasn't luxurious.
Still, I was pleased with the trip and the at-your-service staff of 40 — a better than 3:1 ratio of passengers to crew. Food was top-notch, with buffets for breakfast and lunch, and more formal sit-down dinners. The only downside: We had all of our meals on board with few opportunities to interact with locals. So whenever I got the chance, I had coffee or dessert in the towns. The good news: Next year, Avalon Waterways will offer onshore dining options as part of its overall plan to personalize the experience.
My cabin, which I shared with my mother, was small but comfortable, with twin beds inches apart. Luggage had to be stored under the beds, but there was enough cabinet space to unload belongings. I spent very little time in my room, anyway. Most of my waking hours onboard were on deck or in a lounge looking out.
The highlight was sitting on the deck with other passengers as we passed by the romantic middle of the Rhine, the 40 or so miles between Bingen and Koblenz, Germany, that define our dreamy notion of the legendary waterway. There, our cruise director, Romanian-born Hans Beckert, offered a narrative of the string of medieval castles, quaint villages and fortresses we passed. Not to mention the towering Lorelei rock named after the siren whose beauty distracted sailors. It's where the river is the narrowest and deepest.
We visited a different port every day, sometimes even two. Sightseeing included walking tours, canal rides and tours of museums and churches. Occasionally, the schedule felt stressful, with some departures just a few hours after arrivals.
Still, most of the ports were right in town, so once we landed, rarely did we have to take a bus to get to our destination. And most onshore activities were included in the cost of the cruise, though there were a few options for additional fees.
One of my favorite outings was wine tasting in Obernai, France. And I fell in love with Rudesheim, where we visited the enchanting Siegfried's Mechanical Music Cabinet Museum that featured self-playing instruments dating back to the 18th century. I also took a cable car to the top of the steep, grapevine-covered hills and enjoyed a magnificent view of vineyards and the Rhine River.
Activities in Amsterdam, the cruise's final port, included a tour of the Van Gogh museum and a canal boat ride. But we also took an optional, 26 euro two-hour chaperoned tour of the city's famous Red Light district. Imagine three dozen tourists — many of them gray-haired retirees — gawking at the bikini-clad young women in the windows.