Hiding knives from a member of Congress for fear of your own life. Having cellphones thrown at you. Being cursed at in front of your parents. Being told, "I'm a queen, and I demand to be treated like one."
Rep. Sheila Jackson Lee, Texas Democrat, has a reputation as one of the toughest taskmasters in Congress to have as a boss, and the numbers appear to justify it.
The Washington Times analyzed a decade of congressional pay records to find the offices with the highest turnover rates and found 27 members who — over a period of four or more years — lost an annual average of at least one-third of their staff who sought calmer pastures or were fired.
Each year, an average of half of Mrs. Jackson Lee's staff quits, and one year, all but six of 23 staffers left.
Mona Floyd, who served as the congresswoman's legislative director, has monocular vision and has a lawsuit pending against Mrs. Jackson Lee, who was voted the "meanest member" of the House in a bipartisan survey of Hill staffers by Washingtonian magazine last year. Ms. Floyd said she was told by the representative, "I don't care anything about your disability."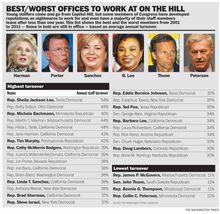 Other incidents, including a series of racially charged diatribes, were documented by the Washington-based Daily Caller website after former aides were so taken aback by her behavior that they broke an unspoken Capitol Hill rule not to speak ill of former bosses.
Eighteen of the 27 members of Congress with the highest turnover rates were Democrats, and six were black women. Only two were senators. The data examined by The Times spans from 2001 through 2011 and was standardized by the website Legistorm.
Rep. Michele Bachmann, the Minnesota Republican who mounted a bid for the presidency, had an average annual staff turnover rate of 46 percent over four years. From 2007 to 2008, 10 of 15 staffers left, even though none of them had an alternate job lined up on the Hill.
To be sure, many of Mrs. Bachmann's former campaign staffers, who are protected by fewer rules separating the personal from the professional than the taxpayer-funded congressional office workers, are not happy.
Peter Waldron said Mrs. Bachmann's campaign has refused to pay him and other staffers after they spoke with law enforcement about a stolen list of voters, even though the campaign is flush with money.
"It's probably not a coincidence that all the people who have not been paid are the very people who have either given depositions, given affidavits or have been interviewed extensively by the police," he told The Hill newspaper.
Second-highest
It's not the company Chuck Hagel wants to find himself among as senators consider his nomination to be defense secretary. Yet during the Republican's tenure as a senator from Nebraska through 2009, his office's turnover rate ranked second-highest of any in the past decade.
In 2005, 20 of 51 staffers left Mr. Hagel's office, the vast majority of whom left Capitol Hill altogether and were replaced quickly by people with no legislative staff experience. Only George Allen, the former Virginia senator and governor, had a higher turnover rate in the Senate.
"He was 'The Cornhusker wears Prada' to his staff, some of whom describe their former boss as perhaps the most paranoid and abusive in the Senate, one who would rifle through staffers' desks and berate them for imagined disloyalty," former Pentagon adviser Michael Rubin told political analyst Taylor Marsh about Mr. Hagel.