This was a different spot for the Washington Capitals. For the first time this season, they led after two periods Sunday against the Buffalo Sabres.
No need for players to implore each other to "stick with it" and results will come. The results were there. The Caps just had to not let it slip away.
That they managed to keep the lead and finish off the Sabres 3-2 showed more than their comeback Friday night just to force overtime at New Jersey. It showed they could play a full 60-minute game and get rewarded for hard work.
"I think we deserved it," center Mike Ribeiro said. "I don't think the other games was deserved. I think Jersey, the one point was what we deserved, and today I think fully two points. The way we played, we played smart, we chipped pucks, we didn't play too much in our zone. We just played smart hockey today, and it paid dividends."
The Caps became the final team in the NHL to pick up a victory, giving Adam Oates his first as a head coach. He was subdued in the aftermath, given that it took until game No. 5 to get it.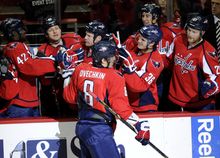 "I'm just glad, finally," he said. "I was kind of hoping it'd be sooner but I'm glad."
It was only fitting that Alex Ovechkin, the man whom so many around hockey thought Oates would be perfect for, supplied the game-winner. When Ovechkin blasted his shot past Sabres goaltender Ryan Miller on the power play for his first of the season, it felt like so much pressure was off the captain's shoulders.
A four-game goal drought to start the year was the longest of Ovechkin's career. He had said it was "tough" and then went out and did something about it as part of by far the Caps' strongest team performance of the season.
The superstar, back on left wing, was aggressive on the forecheck for most of the afternoon and created a handful of scoring chances.
"When he moves his feet, he's the best player in the world," left wing Jason Chimera said. "That's what he can do. You could tell through two periods that even though he didn't have anything he was playing good. You could tell he was on the forecheck, he was getting to guys, he was in the cycle. That's what we need from him. When he does that, people follow. That's the name of the game."
But Ovechkin's game has to be filling the net. If he hadn't scored on the power play, the Caps were one bad bounce away from a confidence-crushing Sabres goal. Instead, they kept the lead Sunday for 36 minutes, 42 seconds. The previous four games combined they led for 2:32.
So when Marcus Foligno scored to cut the lead to one, it wasn't cause for alarm as much as it was a call for more urgency.
"When it was 3-1, guys kind of maybe relaxed a little too much on the bench because it was 3-1," Chimera said. "We kind of buckled down after that again."
The rest of the way, the Caps cut down on Buffalo's scoring chances and relied on Michal Neuvirth (22 saves) to continue his brilliant play of late.
Ovechkin had a chance to ice it with an empty net with about 30 seconds left but hit the post. Oates said that Ovechkin made this one a "little closer than anticipated."