Analysts, law enforcement officials and, most of all, the media warned of potential riots and violence in the streets after Saturday night's acquittal of George Zimmerman.
Instead, in the hours after the Hispanic former neighborhood watch volunteer was cleared of murder charges in connection with the February 2012 shooting death of Trayvon Martin, protests across the country mostly were peaceful.
Some awoke Sunday morning expecting to hear of overnight chaos, which was heavily hyped by the news media as a possibility — perhaps a certainty — as the verdict drew nearer.
---
PHOTOS: Photos from the George Zimmerman verdict
---
But that chaos never materialized, and civil rights leaders say it's a sign of progress. NAACP President Benjamin Jealous on Sunday contrasted the reaction to Mr. Zimmerman's acquittal to the Los Angeles riots that erupted in 1992 after the trial of four Los Angeles police officers in the Rodney King beating.
"We saw no violence in this country that was related to this case. We are very proud of the discipline this generation of young people has shown. I'm sad to say that my own generation didn't show such discipline when we were outraged and heartbroken at the verdict in the Rodney King case," Mr. Jealous said during an interview on CNN's "State of the Union" program Sunday.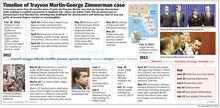 "I think we should, right now, be celebrating the fact that we've seen a generation of young people respond by using our system; raising their voices, yes, but not using their fists," he said.
President Obama released a rare statement Sunday on a local crime story that doesn't yet officially involve the federal government. The president called for continued calm and reflection, even as tensions continued to run high and calls grew louder for the federal government to step in and charge Mr. Zimmerman with hate crimes.
"I now ask every American to respect the call for calm reflection from two parents who lost their young son," Mr. Obama said. "And as we do, we should ask ourselves if we're doing all we can to widen the circle of compassion and understanding in our own communities."
Rallies were held in Los Angeles, Boston, Detroit and elsewhere across the country. Many people attending vigils in numerous cities, wore "hoodies," the garb Trayvon was wearing when he was killed.
There were few reports of violence, though protesters in Oakland, Calif., reportedly started small fires in the streets and burned U.S. flags. Local media reported that protesters also spray-painted anti-police graffiti and vandalized a squad car. There were no reports of injuries or deaths anywhere, only of property damage and a handful of arrests.
The Zimmerman case also hit the nation's pulpits, especially in black churches.
In Manhattan's Middle Collegiate Church, the Rev. Jacqueline Lewis wore a pink hoodie and encouraged her congregants to do the same in Trayvon's memory, according to The Associated Press.
She also urged church members to protest peacefully and "raise our voices against the root causes of this kind of tragedy" while telling them that the civil rights leaders of the 1960s "would have wanted us to conduct ourselves on the highest plane of dignity."
In Washington's historically black U Street neighborhood, demonstrators early Sunday chanted, "No justice, no peace," a line heard at several other demonstrations. One U Street protester said America needs to "stop criminalizing black men." In the Florida state capital of Tallahassee, reporters said, about 200 people demonstrated with signs asking, "Who's Next?"
Although there was little violence, there was a great deal of outrage over Mr. Zimmerman's acquittal, including among members of the news media.