The planet is not a peaceful place, according to a painstaking analysis that quantifies the relative peacefulness of 162 nations.
Released Tuesday, the seventh annual Global Peace Index assessed each country's internal crime statistics, population trends and other factors — from the number of homicides to terrorist activity to prevailing economic conditions.
Its rankings are stripped of emotional underpinnings and are data-driven; there's no "Kumbaya" in sight.
It may shock Americans to know that the U.S. is ranked No. 100, flanked by China at No. 101 and Papua New Guinea at No. 99.
Apparently, things have gotten a little more bellicose on these shores: The U.S. was ranked No. 88 last year.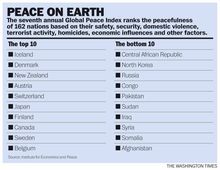 Sitting peacefully at No. 1 this year is Iceland, followed by Denmark, New Zealand, Austria, Switzerland, Japan, Finland, Canada, Sweden and Belgium.
Among Western allies for the U.S., Germany is No. 15, Spain No. 27, Italy No. 35, Britain No. 44 and France No. 55. Mexico stands at No. 133, while Russia lurks at No. 155.
"Libya experienced the largest improvement in peacefulness, climbing three places to 145th position," the study said. "Syria experienced by far the greater deterioration in peacefulness in the world."
Syria fell 11 places, from 149 to 160.
Nations earned their places on the roster via 22 indicators compiled from several international sources, including the Gallup World Poll, the University of Maryland Global Terrorism Database, the U.N. Survey on Crime Trends, and the International Institute for Strategic Studies Armed Conflict Database.
The indicators measure violent crimes, the size of jail populations, political instability, violent public demonstrations and military expenditures, among other things.
The study notes that the U.S. "continues to score weakly" compared to Canada, citing America's large jail population and sizable homicide rate, a "large and active" military and nuclear capabilities.
But things are tough all over.
In the past five years, 110 countries have become less peaceful, while 48 have improved their scores. The overall gauge of peacefulness around the planet has dropped by 5 percentage points in recent years, with considerable economic impact. The cost of "containing violence" and the associated loss of productivity and property damage are estimated to be $9.46 trillion in 2012, or 11 percent of the gross world product, the study found.
In addition, the number of homicides in the world went up by 8 percentage points. That fact has a specific cause, however.