It is rare in the NFL that one unit can be blamed for a loss in a single game.
There's always something the defense could have done better. The offense always leaves some points on the field. But Sunday's special teams disaster by the Washington Redskins in a 31-16 loss at the Dallas Cowboys was an extreme exception. And the news only got worse on Monday, according to coach Mike Shanahan.
Two of the Redskins' top special teams players are done for the season. Reserve linebacker Bryan Kehl sustained a torn ACL in his left knee in the second quarter on an 86-yard kickoff return for a touchdown by Dallas' Dwayne Harris. Also, longtime long snapper Nick Sundberg, who has held that position since 2010, tore the meniscus in his right knee and is also out for the season.
---
SEE ALSO: LOVERRO: Mike Shanahan doesn't have much time to get Redskins' woes figured out
---
"Special teams definitely lost the game for us," Kehl said after Sunday's loss. "Just got to play better. … I couldn't put my finger on it. We just need guys to really step up and take pride and ownership."
Shanahan said the team has yet to bring in other long snappers to try out, but that will happen this week. Starting center Will Montgomery served in that role on two kicks during Sunday's loss after Sundberg was hurt while covering a punt in the third quarter.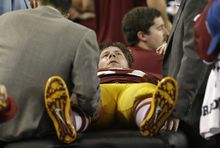 The special teams struggles were a hot topic during Washington's bye week after a Sept. 29 win at Oakland. The Redskins had a punt blocked for a touchdown in that game and were fooled on a fake punt attempt deep in Raiders territory. It has been a season-long trend so far and it is costing them.
That has put heat on first-year special teams coach Keith Burns, who replaced longtime special teams coach Danny Smith this past offseason. Burns had never run a special teams unit on his own during his first six years on NFL staffs.
Instead, for those six years Burns was the assistant special teams coach for the Denver Broncos. But anyone waiting for Shanahan to fire a man who also played 10 seasons for him in Denver, primarily as a special teams standout, probably shouldn't hold his breath.
"I think Keith Burns is a very, very excellent football coach, very capable," Shanahan said Monday. "To get at this level, to be in charge of something, it takes a lot of years of work to be put in this position. And I feel very confident that he'll get the job done even though we've started out a little bit rough."
Washington ranks 16th in yards per kickoff return and 21st in punt returns. Rookie Chris Thompson, who began the year as the No. 1 punt returner, was inactive on Sunday. Josh Morgan hasn't been much better when he has subbed in.
The Redskins have also missed three of nine field goal attempts, with starting kicker Kai Forbath appearing in just two games thanks to a groin injury. They committed five special teams penalties on Sunday in addition to the two long kick returns allowed and a Forbath missed field goal.
Shanahan again noted the personnel changes that Burns has inherited, with younger players adjusting to special teams roles or veterans playing different positions. He even referenced former special teams captain Lorenzo Alexander, who signed as a free agent with the Arizona Cardinals during the offseason.
Alexander led the NFL with 21 special teams tackles in 2012 and was the heart and soul of that unit for three years. He, too, is out for the season thanks to a foot injury suffered last month.
"Lorenzo Alexander's not going to show up so somebody's got to take control of those special teams," Shanahan said. "One guy's got to define himself or two guys have got to define themselves. It's us working as a group and it just takes one guy to look pretty average."
NOTES: Redskins rookie cornerback David Amerson suffered a concussion on Harris' 90-yard kick return in the third quarter that set up a Cowboys touchdown. Amerson was hit helmet-to-helmet by Dallas' Cameron Lawrence. Shanahan said Amerson will be evaluated day-to-day before deciding if he can play this weekend against the Chicago Bears.