ANALYSIS/OPINION:
Sonny Liston is buried at Davis Memorial Park in Las Vegas. His gravestone reads:
---
SEE ALSO: FBI suspected iconic 1964 Ali-Liston fight was rigged by mob
---
1932 – 1970
A man.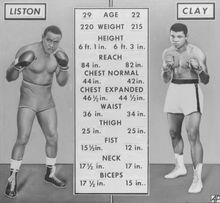 There also lies the mystery of Sonny Liston, at one time the baddest man on the planet — the feared heavyweight champion of the world — and what happened that historic night in Miami Beach on Feb. 25, 1964, when a young, loudmouthed, but seemingly overmatched Cassius Clay stopped Liston after seven rounds.
---
PHOTOS: Scenes from the iconic Clay-Liston fight 50 years ago
---
Clay — his name before he announced the change to Muhammad Ali after that fight — became a national force of nature after that fight, someone who by his own declaration, "shocked the world," and kept doing so for two decades, until he reached his current status of worldwide icon.
But what if Liston took a dive? What if it was a fixed fight?
Would Clay go on to become Muhammad Ali if he had not "shocked the world" and beaten Liston that night?
What would have happened if Liston won that first fight?
FBI documents show the law enforcement agency believed that a Las Vegas gambler and hood named Ash Resnick — a close associate of Liston's — was involved in fixing not just the first Liston-Clay fight, but the rematch as well, as disclosed in a story in Tuesday's Washington Times.
That May 1965 fight in Lewiston, Maine, was filled with controversy the moment Liston went down on the canvas in the first round from what has been called a "phantom punch" from Clay. But it didn't put a dent in the Ali legacy or mystique, since he had already seemingly beaten Liston in the first fight, when Liston quit on his stool before the eighth round.
Liston appeared to be a beaten man, with Clay landing combinations in the sixth and seventh round with ease. There has been speculation about why Liston quit — the medical reports said he had an injured shoulder — but boxing observers have noted that Liston, a tough ex-con, had fought through tougher circumstances.
There was an investigation by local officials, as well as a Senate investigation after the fight. No evidence was reportedly found to indicate any wrongdoing in the outcome of the fight. But FBI documents concerning Resnick — a friend of Liston's with close ties to mobsters like Meyer Lansky and Vincent "Jimmy Blue Eyes" Alo — call it into question.
An FBI memo dated May 24, 1966, concerning a Houston con artist and gambler named Barnett Magids, who had some dealings with Resnick, describes Magids' discussions with Resnick before the first Clay-Liston fight.