Former State Department official Kurt Campbell recently explained why 20 years of Pentagon efforts to build trust with the Chinese military have been difficult: China wants to drive the U.S. military out of Asia, and operates under a different strategic culture from that of the United States.
Mr. Campbell, a longtime Asia policymaker at both State and the Pentagon, said the danger of a U.S.-China military confrontation was highlighted by the Dec. 5 near-collision between the guided-missile destroyer USS Cowpens and a Chinese warship in the South China Sea.
The former assistant secretary of state for East Asia said at a meeting at the Center for Strategic and International Studies that a local incident — not a planned military attack — is more likely to produce a future U.S.-China crisis.
The U.S. government has sought for years to develop a "rules of the road" for military interaction with China in Asia — with limited success, Mr. Campbell said Jan. 15.
"Our forces are out there, they're going to be out there, we're going to sail near one another. We need to know how we will operate in close proximity," said Mr. Campbell, head of The Asia Group consulting firm.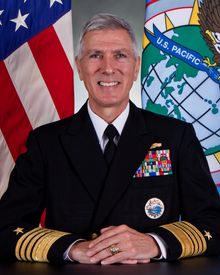 The Cowpens "almost collided, literally less than 100 yards, from a Chinese vessel that went across its bow," he noted.
For nearly two decades, the U.S. has tried to hold talks with China on maritime rules. "And frankly we have to ask ourselves why we've had such difficulty," he said.
Among the reasons behind China's reluctance is that Beijing regards the U.S. military as "the gold standard" for armed forces, Mr. Campbell said, "and they don't want to reveal certain limitations of capabilities, so they're very careful how they expose us in those interactions."
Additionally, tensions between China's military and the Communist Party have made it difficult for Chinese military officials to engage their U.S. counterparts "the way our four-stars do on a regular basis," he said.
Party officials restrict China's military from holding sincere talks with U.S. officials because such exchanges are regarded as the exclusive domain of the party.
"Third, what the Chinese want is for the United States not to operate so regularly and so close to their borders," Mr. Campbell said, noting that the military views U.S.-China military agreements as tantamount to "giving seatbelts to speeders."
An agreement outlining military operating rules in Asia would give the U.S. greater confidence and undermine Chinese efforts to drive U.S. forces out of the region.
"They don't want us to have that confidence operating near them," Mr. Campbell said, noting that Chinese opposition to military agreements is based on concerns that they will mirror Cold War pacts with the Soviet Union and thus reflect that China's communist regime is today's Soviet state.
"And lastly, China has a very different concept of deterrence than the United States," he said. "Our concept of deterrence is shock and awe. Let's show you what we got and that will dissuade you."
For the Chinese, deterrence means "you're going to have uncertainty" about what strategic military capabilities they will employ, he said.