Almost three decades haven't removed the moment from Howard Schnellenberger's mind.
On the final play of Jay Gruden's sophomore season at the University of Louisville in 1986, a Florida State defensive lineman twisted the quarterback's left leg into an unnatural position. Gruden's anterior cruciate ligament and medial collateral ligament were torn.
"I thought they tore it all the way off," said Schnellenberger, Louisville's head coach at the time. "I didn't think he'd ever play again. But he came back."
---
PHOTOS: Jay Gruden's long and winding road to Washington
---
The injury is part of an unorthodox path taken by Gruden that led to Thursday afternoon's press conference at Redskins Park where he was introduced as the troubled franchise's new head coach.
The same traits of tenacity and toughness that Schnellenberger believed helped Gruden, 46, return from the knee injury will be needed as he takes charge of a team coming off a tumultuous 3-13 season. He is the eighth — and youngest — head coach hired by the Redskins since Daniel Snyder purchased the team in 1999.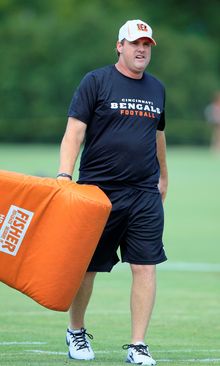 "He's one of my favorites because he's an overachiever," Schnellenberger said. "He's a driven person."
That attitude helped carry Gruden, the son of a former college coach and NFL scout, on a winding journey through professional football's hinterlands. In the pass-happy Arena Football League played on 50-yard fields, he won four championships as a player with the Tampa Bay Storm, then two more as a head coach of the Orlando Predators. The league's hall of fame, where he was inducted in 1999, dubbed him "the AFL's own version of John Elway." One Florida newspaper described Gruden as the "Michael Jordan" of the AFL.
The accolades didn't diminish the sting from an NFL playing career that never happened.
"I never understood why I never got an opportunity, but I'm still a little bitter over that," Gruden told the Orlando Sentinel in 2006.
When Gruden's elder brother, Jon, coached the Buccaneers from 2002 to 2008, he came along as an offensive assistant and continued his football education before they were fired in 2008.
Attention has never been in short supply for the elder brother after coaching the Buccaneers to a win in the Super Bowl in 2003 and, these days, as an analyst on ESPN's Monday Night Football broadcasts whose name regularly pops up in coaching rumors. But in the relative anonymity of little-known football leagues and the dusty corners of an NFL staff, the younger brother crafted a reputation for quiet intensity, offensive creativity and a relentless work ethic that made him the first one to hit the weight room or to study film each morning.
"Jay, it takes a little longer for him to get pissed off," his father, Jim, said from the family's home in Tampa, Fla. "It can happen to Jon real fast."
Added Schnellenberger: "Jon is gregarious, outgoing. He's a music man. He's an entertainer. Jay is not that. He's down to earth and doesn't use more words than he needs to use to get his opinions and thoughts across. His father was a very laid-back guy. Jay takes a lot after him."
The journey to Washington hasn't been without bumps. Gruden spent the past three seasons as offensive coordinator for the Bengals. Their season ended Jan. 5 with a 27-10 loss to the Chargers in the wild-card round of the playoffs that continued a string of postseason failures.
Questions followed Gruden's play-calling. Bengals quarterback Andy Dalton turned over the ball three times in the second half and Gruden called for 31 passes in the fourth quarter, despite preaching a balanced attack of runs and passes.